Sony WH-1000XM2 were excellent headphones, but they had a few flaws. Now Sony has launched the next generation: Sony WH-1000XM3. The new model promises to be better than its predecessor. It offers high-end noise canceling features and premium audio quality, while also being lighter, more comfortable and offering a longer battery life than its predecessor. Is this real or too good to be true? We were curious to find out, so we tested and used Sony WH-1000XM3 daily, for about two weeks. See our opinion about these headphones, in this review:
Sony WH-1000XM3: Who is it good for?
The Sony WH-1000XM3 Bluetooth headset is an excellent choice for:
Users who want a high-quality mobile audio experience
People who want to suppress ambient noises and enjoy clear audio
Users who appreciate and can afford elegant, high-quality design, and a premium build quality
People who want an innovative headset, with Bluetooth and touch controls
Pros and cons
The main pros of buying the Sony WH-1000XM3 wireless headphones are:
Well-balanced sound quality
Probably the best noise canceling on the market
Well-built and well-crafted
Their design is both beautiful and functional
Long battery life and fast charging features
They can be used both as wireless and wired headphones
A generous bundle of useful accessories
The microphone does an excellent job at isolating your voice from ambient noise
There are also some negatives to consider:
The Sony Headphones Connect app is only available on Android and iOS, but not on Windows or Mac OS X
The price is high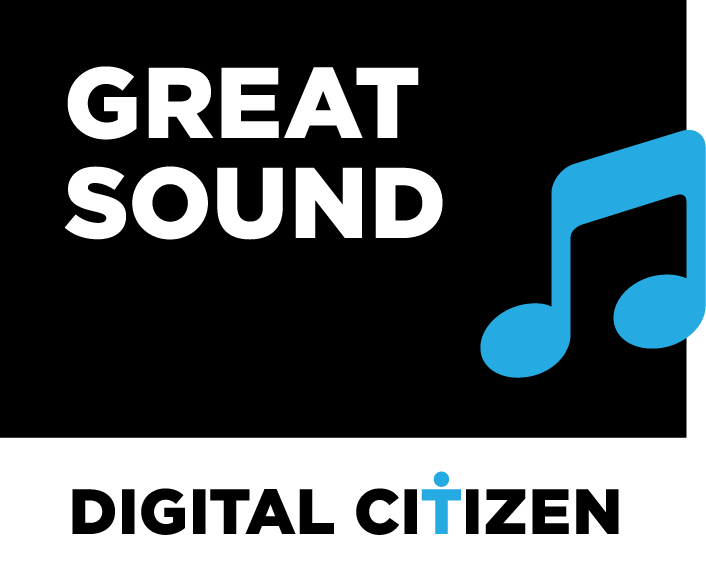 Verdict
The Sony WH-1000XM3 wireless headset with adaptive noise canceling is the best high-end Bluetooth headset from Sony, and its sound quality is excellent. The headphones look beautiful and manage to be some of the lightest and most comfortable we have ever worn. Their top feature is noise canceling, which is the best that we tested so far. If you can afford them, you should definitely buy yourself a pair of Sony WH-1000XM3 headphones. It is a purchase that you won't regret. You definitely get the best that Sony has to offer.
Unboxing the Sony WH-1000XM3 wireless headphones
The Sony WH-1000XM3 wireless headset comes in a beautiful box made from premium white cardboard. On the front, you see a profile picture of the headset, its manufacturer and model name, alongside some of its essential features.
On the back and the sides of the package, Sony printed a few other photos and a lot more information about the Sony WH-1000XM3. You also get the link and a QR code that lets you find and install the Sony Headphones Connect app for iPhones and Android smartphones.
Inside the box, which opens by sliding it from the outer shell, you find a sturdy carrying case made of textile materials, as well as a few documents and leaflets. When you open the case and everything else inside the box, you find the following: the headset, a headphone cable, a USB cable with Type-A to Type-C connectors, an airplane adapter plug, the warranty, and the quick setup guide.
Unboxing the Sony WH-1000XM3 is a delightful experience, worthy of a premium device. The package bundles many accessories that you are going to appreciate.
Design and hardware specifications
The Sony WH-1000XM3 is a beautiful wireless headset with large circumaural headphones. They cover your entire ear and benefit from large 1.57-inch driver units with neodymium magnets. The frequency response is between 4 Hz-40,000 Hz and, if you use them with a wired connection, their impedance can be 16 or 47 ohms, depending on whether they are on or off.
The Sony WH-1000XM3 headset uses Bluetooth version 4.2 for wireless connections, with NFC support, and supports the Advanced Audio Distribution Profile (A2DP), Audio/Video Remote Control Profile (AVRCP), Hands-Free Profile (HFP), and Headset Profile (HSP). As for the audio formats, Sony WH-1000XM3 supports LDAC (a high-quality sound codec developed by Sony), aptX HD (a high-quality sound codec developed by Qualcomm), aptX, SBC, and AAC. As with Bluetooth devices, the wireless range you get from these headphones is of 30 feet or 10 meters, approximately.
You can also use the Sony WH-1000XM3 headset wired, via an audio cable with 3.5mm connectors. The one bundled in the box has gold-plated connectors and a length of 3.94 feet, or 1.2 meters. It has a nice texture, but the wrapping is made entirely out of plastic materials.
The body of the headphones is also almost entirely made out of plastic. However, the headband is made from metal, and both the headphones cushions and the headband are covered in synthetic leather with soft plush inside.
On the right headphone, the Sony WH-1000XM3 has a tactile surface which you use to control the headset. Depending on where you tap on its surface, you can turn the volume up or down, answer calls, skip songs, or even only temporarily lower the volume to hear your surroundings. This is also the place where you will find the USB Type-C port that is used for charging the headphones.
On the left headphone, you get a 3.5mm audio jack, the Power button, and the NC/Ambient button. The latter is used to enable or disable the noise cancellation feature offered by the Sony WH-1000XM3. You can use the Sony Headphones Connect app to assign other actions to this button such as to turn on Google Assistant or Amazon's Alexa.
The Sony WH-1000XM3 headset promises high-resolution audio, using all kinds of tools and features, like an equalizer, a Digital Sound Enhancement Engine HX (DSEE HXTM), ambient sound control, digital noise cancellation and virtual surround sound.
The autonomy is up to 30 hours with noise cancellation turned on, and of 38 hours with it turned off. The full charging time is of 3 hours, but you can get up to five hours of play time after just ten minutes of charging. The fast charging is available only when using an AC adapter that can deliver at least 1.5 Amperes.
You can buy the Sony WH-1000XM3 in two color versions: black and silver. The one that we tested was black.
The Sony WH-1000XM3 weighs 8.99 ounces, which is about 255 grams. If you want to read more about the hardware specs and all the features of these wireless headphones, visit this page: Sony WH-1000XM3 - Specifications and Features.
The Sony WH-1000XM3 has a design that is both beautiful and functional. We like it, and we are sure that you do too. If you are curious whether the high-end hardware specifications translate in premium audio quality, read on.
Using the Sony WH-1000XM3 wireless headphones
We had the Sony WH-1000XM3 headphones for testing for almost two weeks, and we used them daily. During that time, we found out that they are comfortable to use even for long periods of time. The large ear cups and very soft plush on them help on that matter.
The metallic headband is also covered with soft plush, so you do not feel any pressure on your head. However, if you are bald, the faux leather on it might make your head sweat rather easily.
If you travel a lot, one key feature that you are going to like about the Sony WH-1000XM3 is that the headphones are foldable and can swivel. That makes the headset more compact and it fits perfectly inside the carrying case bundled with it. Then, it is easy to take away with you anywhere you go. Furthermore, the plug adapter for in-flight use is definitely a nice addition that people appreciate if they travel by plane.
The touch controls are all on the right ear cup. They are easy to use, and the touch plate is responsive. All the gestures work well, including pausing and resuming music, answering phone calls, or turning the volume up or down.
The noise canceling feature on the Sony WH-1000XM3 is the best we have ever heard. We used the headphones outdoors, in a city with intense traffic - cars, trams, and ambulances always rushing through the lanes. However, with the Sony WH-1000XM3 wireless headphones on your head, those big city noises are sent away to the background and left there. You can still hear them faintly, but not even earplugs can do better than that.
Listening to music on the Sony WH-1000XM3 headphones is the best experience we have had on any Bluetooth headphones. The audio quality is excellent, and the sound is well balanced. All ranges are well represented: powerful bass, warm mids, clear highs. Everything is just as it should be to offer the perfect audio experience. Regardless of what music genre you prefer, listening to your favorite songs is a delight.
We also used the Sony WH-1000XM3 headset to make phone calls, and we can say that it does an excellent job. Everyone we have spoken with over the phone said that they could hear us loud and clear. The quality of the microphone was Achilles' heel for the previous model of this headset, the Sony WH-1000XM2. However, that is no longer true for the Sony WH-1000XM3. This time, we have no complaints about the microphone. It works great!
Finally, let's also talk a bit about the Sony Headphones Connect mobile app that Sony offers for Android and iOS. It is a must-have if you want the best possible experience from your Sony WH-1000XM3 headphones. Everything that you can customize on how the headphones work is done only from the Sony Headphones Connect. It lets you turn on adaptive sound control, run the noise canceling optimizer, adjust the sound equalizer and sound quality mode, and control the DSEE HX feature. All these and more are possible only if you install the app on your iPhone or Android smartphone. Unfortunately, Sony does not offer a similar app for Windows or macOS, which is a shame.
Sony WH-1000XM3 is the best Bluetooth headset with adaptive noise canceling that we have ever tested. The audio quality is excellent on all ranges and the noise canceling feature is amazing. Also, these headphones are probably some of the most comfortable you can wear.
What is your opinion about the Sony WH-1000XM3 headset?
As you know now, the Sony WH-1000XM3 managed to impress us. We love them, and we consider them to be some of the best wireless headphones on the market. Do you agree? Have you tested or do you own them? Comment below and tell us what you think.