Many people use wireless earbuds nowadays, and for good reason: they're small and light, comfortable to wear, and easy to take with you everywhere you go. They also tend to provide good battery life because their charging case recharges them quickly. While the market is crowded with earbuds of all kinds at different prices, a pretentious user who desires excellent sound quality and active noise cancellation doesn't have that many choices. HUAWEI's recently launched FreeBuds Pro 3 aim to cater to the needs of such users, and they do an excellent job in most situations. Here's why:
HUAWEI FreeBuds Pro 3: Who is it good for?
These earbuds are a great choice for:
People who want to listen to high-quality audio on the go
Users who are interested in having a premium product and are willing to pay for one
Those who want excellent noise cancellation
People who are invested in HUAWEI's ecosystem
Pros and cons
The main positive aspects of the HUAWEI FreeBuds Pro 3 wireless headphones are:
Comfortable to wear
Great sound quality
Excellent noise cancellation
Beautiful design and color options
IP54-certified dust and splash resistance
There are a few downsides too:
Bluetooth connectivity deserves some improvement
Battery life is lower than that of competitors
The Find Earphones feature is underdeveloped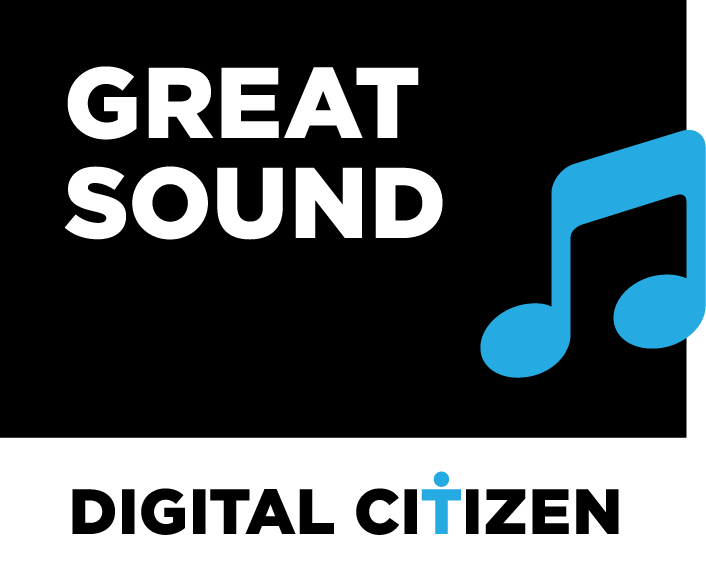 Verdict
I enjoyed testing the HUAWEI FreeBuds Pro 3. They're a great pair of true wireless earbuds that look good and sound great. You won't be disappointed if you want high-quality audio experiences and excellent active noise cancellation. While other earbuds may offer more features, when it comes to sound quality, few can match what the HUAWEI FreeBuds Pro 3 have in store. If you can afford them, you'll definitely enjoy them. They're an excellent product.
Unboxing the HUAWEI FreeBuds Pro 3
The HUAWEI FreeBuds Pro 3 are elegantly packaged, and they come in a white cardboard box featuring a picture of the buds themselves, the company logo, and the product name. The manufacturer also promotes their HWA and Hi-Res Audio Wireless certifications, suggesting you've just bought a product that delivers high-quality audio.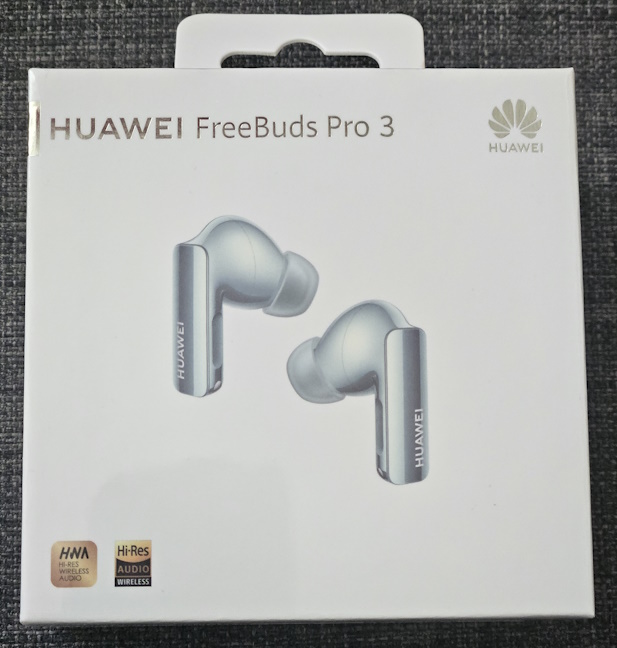 HUAWEI FreeBuds Pro 3 come in a white cardboard box
When you open the box, you see the charging case nicely packaged, featuring the HUAWEI logo in its center.
Opening the box reveals the charging case
Beneath the case, you'll find another smaller box containing all the accessories bundled with HUAWEI FreeBuds Pro 3.
All the accessories are inside a second box
When you unbox everything, you will find these items: the earphones inside their charging case, a USB-C charging cable, four pairs of ear tips, the quick start guide, and the warranty card. Unlike its predecessor, HUAWEI FreeBuds Pro 3 comes with a new XS ear tip size, while the medium size is preinstalled on the earphones. The four available sizes should make the earbuds suitable to wear for more users. Another advantage is that having a better fit translates to better active noise-canceling performance. But more on that later in this review.
Everything you find inside the packaging
The unboxing experience offered by HUAWEI FreeBuds Pro 3 is very pleasant. You immediately feel that you're dealing with a high-quality product. Also, you get all the accessories and information you need to get started and enjoy your experience.
Design and hardware specifications
The FreeBuds Pro 3 comes in a charging case with rounded corners that features the HUAWEI logo in its center, on top of a nano glass surface, which can be used as a mirror. In the picture below, you can see it reflecting the red curtains in my home. It looks pretty, doesn't it?
The charging case has a nano glass surface
The charging case is 46.9 × 65.9 × 24.5 mm or 1.84 x 2.59 x 0.96 inches in height x width x depth. When the buds are inside the case, the case weighs about 58 grams (2 ounces); when they are out of the case, it weighs 45.5 grams (1.6 ounces). The case has a battery with a capacity of 510 mAh, which should suffice for a total of 31 hours of music playback with noise cancellation disabled or 22 hours with it enabled. The case is charged through a USB-Type C port found on its bottom.
Charging is done through the USB-C port
The charging case has a concealed hinge that opens towards the HUAWEI logo. I found this design choice strange, and I expected the area with the HUAWEI logo to represent the front of the case, not the back. On the upside, though, the case's hinge has been tested to last over 100,000 openings and closures. The earbuds are nicely tucked inside the case. Not only do they look great, but they are also easy to take out.
The earbuds are nicely tucked inside the case
HUAWEI FreeBuds Pro 3 are available in three color versions: Ceramic White, Green, and Silver Frost. I've seen and used them all during a press event, and my favorite is the one I also received in testing, the green version.
The colors for HUAWEI FreeBuds Pro 3
The earbuds have a minimalistic look and an elegant "piano key" shape. They're very light (weighing 5.8 grams or 0.2 ounces each) and small, having just 29.1 x 21.8 x 23 mm or 1.14 x 0.85 x 0.9 inches in height x width x depth. You'll be happy to learn that they also feature IP54-certified dust and splash resistance, which is great if you want to wear them while you run or perform other activities that generate sweat. The case doesn't offer any water resistance, so be careful where you place it. You may find it interesting that the main competitor of the HUAWEI FreeBuds Pro 3, the Samsung Galaxy Buds2 Pro, has better IPX7-certified resistance.
HUAWEI FreeBuds Pro 3 are small and lightweight
Each earbud has an autonomy of 6.5 hours when listening to music without noise cancellation and 4.5 hours with noise cancellation. On the technical side, the FreeBuds Pro 3 offers 24-bit audio and support for the following codecs: LDAC, L2HC 2.0, SBC, and ACC. The LHDC and Apt-X codecs are not supported, while the L2HC code requires you to use a HUAWEI smartphone alongside the FreeBuds Pro 3. The maximum audio transmission rate is 990 kbps, and the sound can vary between 14 Hz and 48 kHz. The company also brags about its new active noise-canceling algorithm, ANC 3.0, which is 50% more efficient than the previous generation used in HUAWEI FreeBuds Pro 2.
HUAWEI FreeBuds Pro 3 feature Hi-Res Audio Wireless
Regarding compatibility, you'll be happy to know that HUAWEI FreeBuds Pro 3 works with all the major operating systems: Android, iOS, Windows, and the company's own HarmonyOS. It connects to devices using all these operating systems through Bluetooth 5.2.
For more technical details about this product, visit its official webpage: HUAWEI FreeBuds Pro 3.
Using the HUAWEI FreeBuds Pro 3
You must install the Ai Life app if you want to get access to all the features of the HUAWEI FreeBuds Pro 3 on your Android smartphone or iPhone. The app is found in Apple's App Store and is maintained up to date. Unfortunately, you can't find it on Google's Play Store, so you must manually download it from its official website if you're using an Android smartphone. The app requires you to sign in with a HUAWEI account and is used to manage many smart devices made by HUAWEI. It quickly detects the FreeBuds Pro 3, and you can add them to the app to configure how they work.
Adding the HUAWEI FreeBuds Pro 3 is easy
The app automatically checks for new firmware updates after you add the HUAWEI FreeBuds Pro 3. The company has released a new version available at the product's launch, improving its Bluetooth connection's stability. I recommend that you install it, as well as other updates that may be sent your way. They'll help in providing you the best experience possible.
Always install the latest firmware
HUAWEI Ai Life provides you with simple controls for the FreeBuds Pro 3. As you expect, you can personalize the noise cancellation feature, the sound effects, and sound quality settings.
The configuration options available for HUAWEI FreeBuds Pro 3
For the FreeBuds Pro 3, HUAWEI has focused on improving their noise-canceling algorithms, and they did a great job. I used the buds when working at home, walking around the city, and during a light running session. One evening, during peak traffic hours, I was amazed by how thorough the noise cancellation was. I stopped hearing the people talking near me, the dogs barking while I walked through a park, and the traffic was barely audible. At some point, the noise cancellation was too efficient, and I wasn't able to hear the electric vehicles passing nearby. Therefore, to feel more secure, I switched the buds to Awareness mode, which allows a lot more background noise to get through.
Choose between four noise cancellation modes
I thoroughly enjoyed the sound quality provided by HUAWEI FreeBuds Pro 3 when listening to music or my favorite podcasts. The Ai Life app also offers a couple of presets for adjusting the sound depending on your preferences, but I was perfectly happy with the default settings. Most probably, you will be too.
Presets for adjusting the sound
I especially liked that the HUAWEI FreeBuds Pro 3 does not focus on providing a lot of bass and treble. Instead, the earbuds focus on reproducing sound as natural as possible. They're perfect for listening to rock music like I do or artists with amazing vocals, like Kate Bush or Florence+The Machine. Their songs sound awesome on these earbuds. Even if you do not own a pair of FreeBuds Pro 3, you should listen to the embedded file below. The vocals are simply great. 🙂
During phone calls, HUAWEI FreeBuds Pro 3 provides excellent audio quality. The people I spoke to sounded a lot better than when using my phone. I could hear them clearly, a bit louder than on my phone, and their voices were more rounded. The noise cancellation also worked well, as they couldn't hear that I was walking around in traffic, for example. Unfortunately, I sometimes encountered Bluetooth connectivity issues: when taking some calls, my phone couldn't properly forward the audio to the HUAWEI FreeBuds Pro 3. I hope the company will continue improving its firmware and fix these issues.
Taking a call on the HUAWEI FreeBuds Pro 3
Wearing the HUAWEI FreeBuds Pro 3 is very comfortable. They're lightweight and don't tire your ears easily. I wore them once for about four hours and listened to music while working. I barely felt that I had them on. However, when I took them off, I noticed just how many background noises were filtered out while wearing them. As a result, my ears needed some time to adjust to the environment as it felt noisy for the first couple of minutes without the earbuds.
HUAWEI FreeBuds Pro 3 fit my ears well, but sometimes, I noticed that the right bud was prone to fall from my right ear. In contrast, the left bud never had such issues, and it always stayed inside my ear, even when I was running. This is not necessarily a design fault, as both earbuds are identical. The trouble is that our ears aren't identical, and such issues can happen no matter what buds you wear.
HUAWEI FreeBuds Pro 3 are comfortable to wear
I wore the HUAWEI FreeBuds Pro 3 during one of my regular 20-minute runs, and unfortunately I didn't enjoy using them. That's because each time I placed my feet on the ground, I heard a loud rumble in my ears. The faster I ran, the louder and more frequent that noise became. Therefore, I couldn't actually listen to music while running. After 10 minutes of keeping them on, my experience became so annoying that I had to take them off. Because of this, I don't recommend using the HUAWEI FreeBuds Pro 3 while performing intense sports activities. They're perfect for walking, hiking, yoga, or even going to the local gym, but not for running.
Each earbud's stem has a surface that can be touched with your fingers. For example, you can perform different pinches on it to answer calls, reject them, or skip to the next song. You can also pinch and hold or swipe on each earbud to control the noise cancellation feature and adjust the volume. Unfortunately, not all gestures can be performed reliably, and you need to go through a bit of trial and error before you get the hang of it. On the upside, though, you can customize the gestures right from the Ai Life app.
The gestures supported by HUAWEI FreeBuds Pro 3
One neat little feature is Find Earphones. When you can't find your earphones, you can play a sound on them to localize them more easily. This would have worked better if you could also find the charging case, not just the individual earphones. You can't find them using this feature if they're inside the case. However, the company said it is working on adding this feature in future versions of the Ai Life app. Competing products like those made by Samsung offer this feature and help you track your buds on the map in case you lose them while traveling or are stolen. Such advanced tracking features are not available for HUAWEI FreeBuds Pro 3.
How Find Earphones works
The autonomy of the earbuds was close to what HUAWEI advertised, and I could enjoy 4 hours of use with noise cancellation turned on. While it is not as good as what you get from competing products, most people rarely use their earbuds for so long and place them into the charging station a lot sooner. Therefore, battery life is unlikely to feel problematic, even though it is not as great as that of competing products from other brands.
Except for a few minor issues, I was happy with the testing experience for HUAWEI FreeBuds Pro 3. I thoroughly enjoyed the sound quality they provide and their excellent noise cancellation algorithms.
What's your opinion about the HUAWEI FreeBuds Pro 3?
HUAWEI FreeBuds Pro 3 are good-looking true wireless earbuds with great active noise-cancellation and impressive sound and call quality. While they are not perfect, they are a great product that will appeal to many people. But that's my opinion, and before you close this review, I'm curious about yours: Do you like the HUAWEI FreeBuds Pro 3 and what they offer? Do you intend to buy them? Use the commenting options available below and share your perspective.