Xiaomi is a growing presence in many tech areas, from smartphones to television sets and from vacuum cleaners to air purifiers. But they also make and sell smaller devices like earphones. Although the competition is very strong in this market, Xiaomi somehow manages to be a top player, creating some of the best gadgets out there at prices that often outmatch their competition. In this review, I'm testing the Xiaomi Buds 3, one of their latest earphones. Promising excellent audio quality and having good technical specs, the Xiaomi Buds 3 could be your next in-ear headphones. If you want to know whether they're a good fit for you, read this review:
Xiaomi Buds 3: Who are they good for?
The Xiaomi Buds 3 are an excellent choice if you:
Want high-quality audio playback at a reasonable price
Are looking for earphones with active noise cancellation
Intend to get yourself a pair of earphones with good autonomy
Pros and cons
These are the things I like about the Xiaomi Buds 3:
The audio quality is good with well-represented low, mid, and high frequencies
The earphones appear to be well-built and are dust and water-resistant
They're comfortable to use even for long periods of time
The active noise cancellation is useful
The force sensor controls are easier to use than touch
Their autonomy is good, and the charging case adds plenty of playback time
They support Bluetooth 5.2 Low Energy and wireless Qi charging
Their price is reasonable
On the other hand, there are also a few things I don't like:
The design, although good, resembles Apple's a bit too much
They don't allow you to control volume using their force sensors
No support for the AptX high-quality Bluetooth audio codec
Xiaomi offers no official app for personalizing how the earphones work
Verdict
The Xiaomi Buds 3 are what I'd call a mid to high-end device. These earphones deliver high-quality audio with sound that's well represented on the entire frequency range, from low to mid and high frequencies. In short, they sound really well. Additionally, the Xiaomi Buds 3 also come with efficient active noise cancellation (ANC), battery life that's more than decent and quite excellent if you add the charging case into the mix, and their ergonomic design makes them comfortable to use for long periods of time, even if it's not original in any way. Taking into account that their price is also reasonable, I do recommend the Xiaomi Buds 3 to anyone who puts emphasis on the aforementioned aspects, as I do. However, they're not for you if you're looking for a premium set of earbuds with even greater autonomy, a dedicated app for controlling how they work, or an innovative design. But, in that case, be ready to spend significantly more than what Xiaomi asks for their Buds 3.
Unboxing the Xiaomi Buds 3
The Xiaomi Buds 3 arrives in a relatively small matte black box made of high-quality cardboard. On its top cover, you get to see an embossed image of the earbuds and their charging case, painted in the color you chose. Towards the bottom, Xiaomi printed the name of the headphones, while in the top-right corner, there's the MI logo.
The package of the Xiaomi Buds 3
The bottom of the box is filled with information about the Xiaomi Buds 3, including technical specs, color, serial numbers, and, interestingly, a "Scratch and Check" sticker that proves your new device is authentic.
The back of the box
Inside the box, you'll find the earbuds, their charging case, two additional bud tips (besides the standard size one already mounted on the buds), a short (47 cm/18.5 inches) USB-A to USB-C cable, and a quick start guide that also contains the warranty details.
Unboxing the Xiaomi Buds 3
The unboxing experience offered by the Xiaomi Buds 3 is satisfying. The package looks good, and the contents are well-protected. At first glance, all the bundled accessories appear to be well built.
Design and hardware specifications
The Xiaomi Buds 3 have a simple design that, to be honest, resembles that of the Apple AirPods Pro. Available in Carbon Black (the ones I tested) or Gloss White color variants, the earphones look good but nothing fancy or unexpected. The buds are ergonomically shaped, and while the "bud part" that goes into the ear canal is rounded, the stems coming down on the ear lobes are more rectangular. The buds also come with regular silicone pads that help insulate noise and fit all ears regardless of size. Out of the box, M-size pads are already mounted on the Xiaomi Buds 3. But, if that's not a good fit in your case, you can easily change them with the S or L-sized tips found in the box.
The Xiaomi Buds 3 look similar to the AirPods Pro
Each bud has a force sensor built-in, found toward the bottom of the stems. Not to be confused with a touch sensor, the force sensor requires you gently pinch the bud, not just touch it. There are quite a few actions this way, like accepting a phone call, controlling music play, or toggling noise cancellation on or off. However, there's one thing missing: volume adjustment, which can't be done from the buds directly. For that, you'll still need to use your smartphone.
Xiaomi Buds 3 have force sensors on their stems
The electrical contacts used for charging the earphones in their case are found at the bottom of the stems of the buds. There are only two of them on each bud, and they're tiny and unassuming, which is good.
Each of the Xiaomi Buds 3 has two charging contacts
The charging case looks good and appears to be of high quality, too: elliptically shaped, matte, and easy to open. The buds' locations are accurately cut, and they have small magnets at the bottom, so rest assured, that the earphones will stay put as they really can't change position inside the case.
The charging case holds the Xiaomi Buds 3 firmly in place
In terms of tech specs of the Xiaomi Buds 3, there are a few essential things to know. First of all, these are not budget earphones, although their price is accessible compared to Apple's AirPods. For a recommended retail price of about 110~120 USD, the Buds 3 give you active noise cancellation that's able to remove up to 40dB of noise around you, HiFi sound quality, IP55 dust and water resistance, and solid battery life.
The earphones use dual-magnet dynamic drivers, and Xiaomi says that it used professional HRTF tuning on the buds, which should make the earphones able to deliver natural low-frequency sounds (bass) and clear high-frequency tones. The wireless connection is sustained by Bluetooth 5.2, and the buds support Bluetooth Low Energy, HFP, A2DP, and AVRCP profiles. They also support the SBC and AAC Bluetooth audio codecs, but, unfortunately, AptX is not available.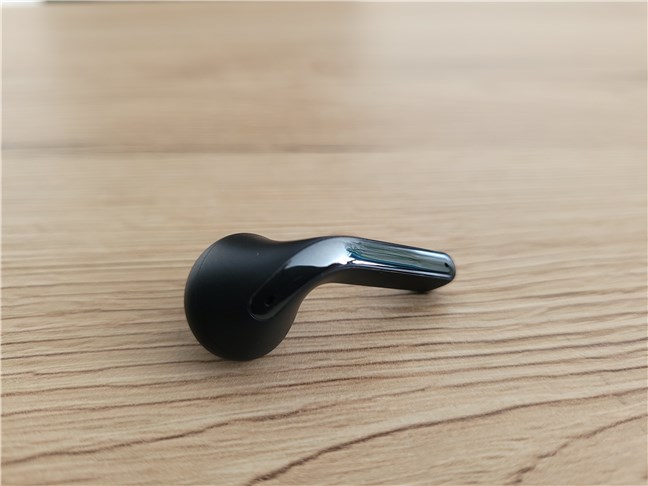 Xiaomi Buds 3 don't include AptX support
Regarding the batteries and charging times, Xiaomi only shares details on the playback times: up to 7 hours of playback time on one charge and up to 32 hours when used with the charging case. I couldn't find any information regarding the battery capacity of the case or the buds. However, I can tell you that it took roughly 45 minutes to charge the buds completely and that the case can fully charge the earphones 3 to 4 times before it depletes. A nice thing is the fact that the case uses a USB Type-C port and also supports wireless Qi charging! And, even if it only allows an input of 0.5 Amperes, the buds and their case appear to support fast charging. After only 10 minutes, the Xiaomi Buds 3 can deliver 90 minutes of use.
The charging case lets you know its status via a small LED
Finally, a few words on their weight: each earphone weighs about 5 grams (~0.18 oz), and the charging case weighs approximately 42 grams (~1.48 oz). That amounts to a total of 52 grams (~1.83 oz) for the whole package.
If you want to check all the official specs and features, visit this webpage: Xiaomi Buds 3.
The Xiaomi Buds 3 look good, appear to be well-built, and their technical specs hint at a high-quality device.
Using the Xiaomi Buds 3
Pairing the earphones with your smartphone is straightforward. Initially, when you take them out of their case, they automatically enter pairing mode, so all you have to do is search and select them from your smartphone. Later on, if you want to pair them with other devices, you need to press for a few seconds the small button next to the USB-C port on the case. Then, once they're paired to the smartphone, connecting them is done almost instantly.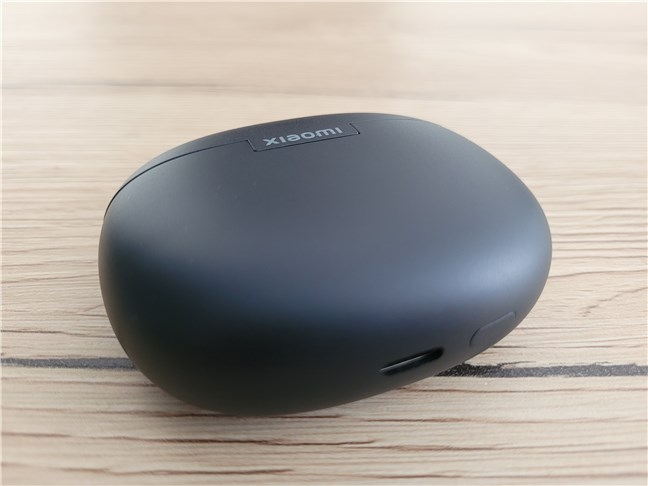 The case uses a USB-C port for charging and also supports wireless Qi charging
I found that using them is comfortable even for long periods of time if you mount the right tips for your ears. Although I've kept them on, listening to music for hours at a time, I didn't feel like my ears would hurt even a bit. And, a thing that's worth mentioning is that the buds' shape is well-thought (after all, it's a shape that's been tried and tested on many such devices) and doesn't let them fall out easily from your ears. I'm not a runner, and I wouldn't describe myself as an athletic person at all, so I can't say how well the buds will stay in their place when going to the gym. However, I can tell you that the Xiaomi Buds 3 didn't fall out of my ears during an easy afternoon bicycle trip around the block.
Wearing the Xiaomi Buds 3
During phone calls, the Xiaomi Buds 3 work well. The people with whom I've talked using them, in various environmental conditions, including outdoors during a windy day, said that they could clearly understand what I was saying.
But where these earphones really shine is playing music. I like the sound quality they offer quite a bit. Although I've heard better earphones, I consider the Xiaomi Buds 3 to be some of the best in terms of quality versus price. The main reason is not the active noise cancellation feature or an impressive bass. The reason is the balanced sound they offer: low frequencies, mids, and highs are all well represented but not emphasized. I don't like earphones or headphones that push too much bass or high-frequency sounds that assault the ear.
Listening to music on the Xiaomi Buds 3 is a pleasant experience
Last but not least, I tested the autonomy of the Xiaomi Buds 3, and I have to say that the company did quite a good job in this regard. Xiaomi says that the earbuds should keep on running for about 7 hours on a charge. However, that's an estimate based on using the earphones without the active noise cancellation feature turned on. I chose to enable it as the earphones use more power in trying to annul unwanted noise. I also set the volume to 50 percent and played music on Spotify continuously. In these conditions, the Xiaomi Buds 3 managed to last for 6 hours and 45 minutes before depleting their batteries, and that's a pretty good result, in my opinion. Sure, there are other earphones out there that can deliver double the autonomy on a charge, but in most cases, they also cost double the money.
Furthermore, in real life, I expect the Xiaomi Buds 3 to offer even more relative autonomy. That's because of a nice feature they have. Taking one earbud out of your ear automatically pauses playback, and taking them both automatically puts them to sleep. Paired with the charging case's additional battery power, you'll get excellent running time from the Xiaomi Buds 3 without constantly wondering if you need to charge them.
I like the Xiaomi Buds 3 quite a lot, especially in terms of audio quality and comfort. They're as good a choice as any mid to high-end earphones out there. The active noise cancellation is also quite good, as is the autonomy of the earbuds, although, in the latter respect, things could be further improved.
What's your opinion about the Xiaomi Buds 3?
Now you know more about what to expect from the Xiaomi Buds 3. For the asking price, I believe it's a good choice for many people, especially those who appreciate a clean sound without too much bass. What's your opinion? Would you buy them, or do you intend to check other options on the market? Let me know in the comments section below.