The smartphone experience on the Samsung Galaxy S20 FE 5G
I had the Samsung Galaxy S20 FE 5G since December 2020, so that's about a month of testing. In all this time, I used it daily as my primary Android smartphone to see whether it's worth buying one or not.
First of all, I'd like to say that the OneUI user interface and the Android operating system run flawlessly. I have never seen this smartphone lag or slow down - its hardware is powerful and more than enough to run any app fluently and without hiccups.
Call quality is also top-notch. That's probably thanks to a good ear speaker, but also because of excellent network reception and audio codecs. My mobile plan supports 5G networks, but the network coverage is relatively poor in the town where I live. Although present, it doesn't give me higher internet connection speeds than 4G. On the other hand, I've never experienced call drops, not when this smartphone used VoLTE, nor when it used VoWiFi while connected to my home WiFi network.
Phone calls and mobile network options on the Samsung Galaxy S20 FE 5G
Also, in terms of audio quality, I found the loudspeaker to offer a satisfying experience. It delivers clear sound and without "artifacts." The maximum volume is enough, in my experience. However, like on any other phone out there, if you want real audio quality, you have to use a pair of earphones. Unfortunately, Samsung doesn't bundle any earphones in the package, so you'll have to buy them yourself.
The battery inside the Samsung Galaxy S20 FE 5G usually lasted for a day and a half of moderate usage. For me, that means browsing the internet a lot, reading news and email, taking photos, and watching a movie or two in the evening. However, if you add gaming to your daily routine, you might have to charge the phone before the end of the day, as the battery surely gets drained faster.
Speaking of watching movies, I must say that I was positively impressed by the display on the Samsung Galaxy S20 FE 5G. Although its resolution is lower than what you get on the other Galaxy S20 smartphones, you can't really tell. The screen has excellent brightness, contrast, and color reproduction.
Watching Netflix on the Samsung Galaxy S20 FE 5G
Using the Samsung Galaxy S20 FE 5G smartphone is very satisfying. It's fast both when running apps and when browsing the internet, audio and video playing is a pleasant experience, call quality is top-notch, and the battery life is excellent.
The camera experience on the Samsung Galaxy S20 FE 5G
Although the Samsung Galaxy S20 FE 5G is similar to the Samsung Galaxy S20, the camera systems are a bit different. On its back, the Samsung Galaxy S20 FE 5G has three cameras, not four, and on its front side, the selfie camera uses a larger sensor than what you get on an S20 or S20+. For starters, let's review the main cameras of the S20 FE 5G:
12 MP, f/1.8 aperture, 26 mm (wide), Dual Pixel PDAF, OIS
8 MP, f/2.4 aperture, 76 mm (telephoto), PDAF, OIS, 3x optical zoom
12 MP, f/2.2 aperture, 123˚, 13mm (ultrawide)
On the front side, in a round cutout of the display, the Samsung Galaxy S20 FE 5G comes with:
A 32 megapixels selfie camera, with an aperture of f/2.2, 26 mm focal length (wide), and HDR support.
The Camera app offered by Samsung is well designed and should be easy to use. The standard photo and video modes can be enabled from the bottom of the screen or by swiping left and right on the screen. Switching between wide, ultra-wide, or zoom capture modes is done by tapping on the small icons that resemble two trees (main camera, wide), three trees (ultra wide), or one tree (zooming - telephoto mode).
The Camera app on the Samsung Galaxy S20 FE 5G
The quality of the photos that the Samsung Galaxy S20 FE 5G shoots is excellent in most situations. If the lighting conditions are good or at least acceptable, like in daylight or under artificial light, the photos are superb. The colors are rich and vibrant, and the details are great. Night photos are of good quality, too, but, in this case, we're under the impression that Samsung's algorithms are a bit aggressive with brightening, which can lead to loss of detail and possibly a bit too much contrast.
If you are curious to see the photos we have taken with the Samsung Galaxy S20 FE 5G and check their quality on your own, browse through the gallery below. We've shot photos outdoors, in good lighting conditions, as well as inside, under artificial lighting. We also included a few selfies, animal portraits, and some closeups.
The smartphone can record videos in up to 4K resolution at 3840 x 2160 pixels and up to 60 frames per second, both using its rear cameras and the selfie camera. Furthermore, the videos are stabilized using gyro-EIS (Electronic Image Stabilization), which helps smooth recordings when your hand is shaking or when you're moving. To get an idea of the video quality, here is a sample shot in 4K at 60 fps:
Also, here's another sample video with more movement, recorded using the same 4K resolution at 60 fps:
If you like slow-motion videos, here's what a Super Slow-Motion video looks like:
The Samsung Galaxy S20 FE 5G has some of the best cameras that you can get from an Android smartphone. The photos and videos it can shoot are exceptional in good lighting conditions. Night photos are great also, but the smartphone tends to brighten them a bit too much.
Android 10 upgradeable to Android 11, and bundled apps
The Samsung Galaxy S20 FE 5G comes with Android 10 and OneUI 2.5 by default. However, a few days after we received it in testing, Samsung also pushed the update to Android 11 on our sample, as well as OneUI 3.0. The good news is that the Galaxy S20 FE 5G will get software upgrades from Samsung for three years, so when they're out, you should also receive Android 12 and Android 13.
Samsung Galaxy S20 FE 5G: Software information
Samsung's One UI 3.0 enhances the default stock Android experience and comes with quite a few additional features and optimizations. If you're switching from another Samsung smartphone, the transition to the Galaxy S20 FE 5G is straightforward. However, if you've previously used an Android phone from another manufacturer, it might take a few hours for you to accommodate to Samsung's OneUI and the way it does things. Some things, like the modified Settings app, are easy to understand. Others, like the impossibility to change the default Samsung Daily news feed with Google's, not so much. Unfortunately, this is an issue that doesn't make us happy at all. Although you can disable Samsung Daily, the only option to get Google's news feed instead is to use a third-party launcher, which defeats the purpose of having access to the other features of Samsung's OneUI software.
Samsung Daily on the Samsung Galaxy S20 FE 5G
One of the things that we like about the Samsung Galaxy S20 FE 5G is its ability to run Samsung's DeX. This feature lets you use your Android more like a desktop computer. Samsung DeX gives you a desktop like in Windows, a taskbar and a system tray, apps that launch in their own windows, and mouse and keyboard support.
As for the bundled apps, Samsung does come with some, but not as many as we've seen on other smartphones from other companies. Although Samsung recommends plenty of apps when you configure your smartphone, you can choose which ones you want and which you don't.
Recommended apps from Samsung
If you don't install any of the recommended apps, Samsung Galaxy S20 FE 5G limits its list to the essential Google apps (Google, Chrome, Gmail, Maps, YouTube, Drive, and Photos), and a series of other additional apps from Samsung (My Files, Bixby, AR Zone, OneDrive, Play Store, Galaxy Store, Netflix, Phone, Messages, Camera, Gallery, Clock, Contacts, Settings, Calendar, YT Music, Tips, Game Launcher, and Live Transcribe).
Default apps on the Samsung Galaxy S20 FE 5G
When we published this review, Samsung Galaxy S20 FE 5G used One UI 3.0 and Android 11. As the smartphone is on the list of Samsung devices that are getting 3-years worth of upgrades, it should also get Android 12 and 13. On the whole, we like Samsung's OneUI interface and appreciate the availability of Samsung DeX and the fact that the smartphone doesn't bundle too many apps. The only complaint we have is related to the inability to change Samsung Daily with the Google Discover feed.
Performance in benchmarks
To see how powerful the processor on the Samsung Galaxy S20 FE 5G is, we first ran Geekbench. It got 856 points in the Single-Core tests and 2758 in the Multi-Core test. Both scores are close to those of an OnePlus 8 and better than a Samsung Galaxy S20 Ultra!
Samsung Galaxy S20 FE 5G - Geekbench results
We then used PCMark for Android to measure how well Samsung Galaxy S20 FE 5G fares in productivity tasks. It got 12056 points, which is again a similar result to what you get from an OnePlus 8 Pro or other smartphones from the Samsung Galaxy S20 family.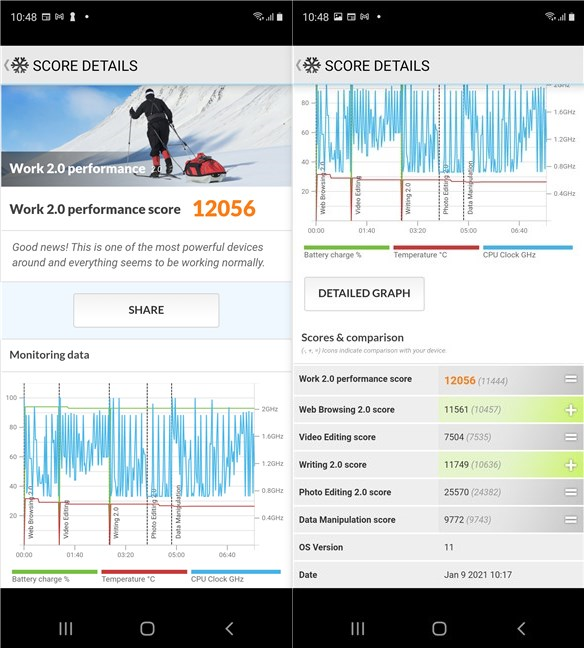 Samsung Galaxy S20 FE 5G - PCMark results
As gaming is important for many of our readers, we also used the 3DMark benchmark app to test this smartphone. Samsung Galaxy S20 FE 5G got 7074 points in Sling Shot Extreme - OpenGL ES 3.1 and 5163 points in Sling Shot Extreme - Vulkan. These are excellent results, close to those of a Samsung Galaxy S20+ 5G or an OnePlus 8.
Samsung Galaxy S20 FE 5G - 3DMark results
To evaluate the autonomy offered by Samsung Galaxy S20 FE 5G, we used PCMark's Work 2.0 battery life test with the display brightness set to auto. The battery lasted 9 hours and 54 minutes. It's a good result that confirms the fact that this smartphone can last for a whole day or even more in moderate usage.
Samsung Galaxy S20 FE 5G - Battery life test results
Finally, because Samsung Galaxy S20 FE 5G supports the latest Wi-Fi 6 network standard, we checked how fast it could be when connected to such a network. We used the SpeedTest app, and we got a maximum of 755 Mbps for the download speed, while the upload speed was 532 Mbps. The upload could've been even faster, but our internet plan is capped at 500 Mbps.
Samsung Galaxy S20 FE 5G - WiFi 6 benchmark results
The benchmarks tell the same story that we've guessed while using this smartphone: the Samsung Galaxy S20 FE 5G is one of the best Android smartphones on the market these days. It offers excellent performance both in productivity and multimedia, and it doesn't disappoint in gaming scenarios either.
Do you like the Samsung Galaxy S20 FE 5G Android smartphone?
Now you know that we have come to like the Samsung Galaxy S20 FE 5G a lot and that we consider it one of the best Android smartphones you can buy today. Do you agree with us, or do you have a different opinion? Let us know in the comments section.