External SSDs are becoming more popular and accessible, and Kingston is a leading brand in this field. The company has recently introduced a new model, the XS1000, which claims to deliver high data transfer speeds of 1000 MB/s and more. With a compact and light design, the XS1000 is also quite an affordable option. How well does it perform in real-world scenarios and benchmarks? In this review, I will take a look at the Kingston XS1000 portable solid-state drive. So, if you want to know more about it and what it offers, read on:
Kingston XS1000: Who is it good for?
The Kingston XS1000 solid-state drive is an excellent choice for:
People who need a portable SSD for general storage
Those who have computers or laptops with fast USB 3.2 Gen 2 ports
Pros and cons
There are many good things to say about the Kingston XS1000 external SSD:
It's a fast drive both for reading and writing data
It has a compact design, and it's lightweight
Affordable price
Generous storage capacities (1 TB or 2 TB)
Five-year warranty
The only downsides of the Kingston XS1000 external SSD are:
The lack of an IP certification for protection against water and dust
No hardware encryption for those interested in security
Verdict
The Kingston XS1000 offers remarkable performance for a portable solid-state drive, reaching 1 GB/s in data transfer rates. It has a compact and lightweight design and a reasonable price tag. I believe it's an excellent option for anyone looking for a fast external drive to back up their important files, documents, photos, and others alike. However, if you're a professional who needs to work with very large files or data sets, the Kingston XS2000 might be a better option.
Unboxing the Kingston XS1000 external SSD
The Kingston XS1000 is a compact and lightweight SSD you can easily carry around. Its box is also quite small, but that didn't stop Kingston from filling it with information about the drive. On the front, you can see a picture of the external SSD, its name, storage capacity, and USB 3.2 Gen 2 compatibility. On the sides, back, and inside, there are more details about it, including its serial number, supported operating systems, and warranty.
The packaging of the Kingston XS1000
Inside the package of the Kingston XS1000 SSD, you will find only the bare essentials: the device itself and a USB Type-A to Type-C cable.
What's inside the box of the Kingston XS1000
Unboxing the Kingston XS1000 external SSD is quick and straightforward, and the package only includes the device and its cable, with no other accessories.
Design and hardware specifications
The Kingston XS1000 is an external SSD that promises high levels of performance. Using a USB 3.2 Gen 2 interface, its official specs advertise it as being capable of delivering fast transfers of up to 1,050 MB/s when reading data and up to 1,000 MB/s when writing. Unfortunately, Kingston doesn't specify the type of controller used by the XS1000 or the type of flash memory inside it.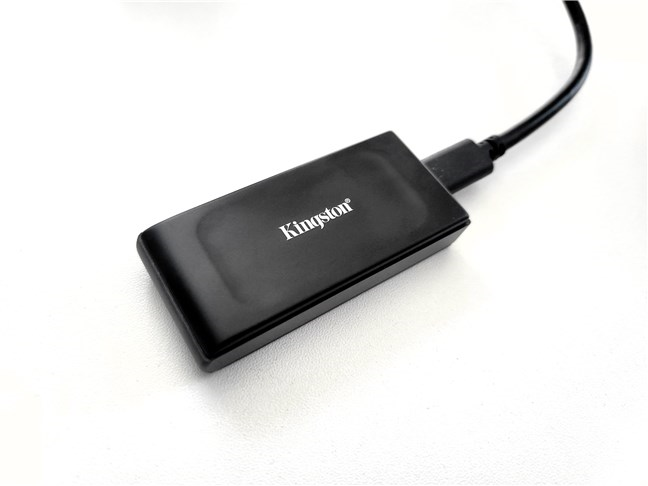 The Kingston XS1000 works with USB 3.2 Gen 2
Regarding storage capacity, the Kingston XS1000 external solid-state drive is available in two versions: 1 TB and 2 TB. The sample I received in testing was the larger one (2 TB). According to their specifications, both models have the same sequential read/write speeds. That makes me think both use the same type of flash memory and probably the same controller. However, because Kingston doesn't share this info, I can't know for sure.
The Kingston XS1000 can have 1 or 2 TB of storage space
The Kingston XS1000 external SSD has a case that combines plastic and metal elements. Worth noting, a possible drawback of the drive is that it lacks an IP rating, which means it is not protected from water and dust damage.
The Kingston XS1000 is small and lightweight
The surface of the case gets warm during extensive use, but it doesn't get too hot to handle comfortably. Also, the internal temperature stays within reasonable limits: the highest value I've seen when testing this SSD was 55 degrees Celsius (131 degrees Fahrenheit).
The Kingston XS1000 is warm during use but it doesn't get hot
Kingston's XS1000 external solid-state drive is a compact device that can easily fit in any pocket. Without its cable, the SSD measures 69.54 × 32.58 × 13.5 mm (approximately 2.74 × 1.28 × 0.53 in) in length × width × height. It's also light, weighing only 28.7 grams (1.01 ounces).
If you want to know more about the specs and features of this solid-state drive, visit Kingston XS1000 external solid-state drive (SSD) - Specifications.
Kingston claims that the XS1000 external SSD can achieve read speeds of a bit over 1 GB/s and write speeds of up to 1 GB/s. Paired with the generous capacities available, these specs would make it an excellent choice for anyone looking for a fast drive to back up their files, photos, and even videos.
Using the Kingston XS1000 external SSD
Next, I'd like to show you what using the Kingston XS1000 was like for me. But, before that, here's the configuration of the computer I tested it on:
I began by checking the actual storage space available on the SSD. The screenshot below shows that Windows 11 recognizes 953 GB of capacity on the Kingston XS1000 1TB SSD. The SSD comes pre-formatted using the exFAT file system.
The real storage capacity when formatted
Then, I wanted to see how the Kingston XS1000 performs in Windows 11 when transferring files. After all, this is a storage device, and besides capacity, the most important thing about it is how fast it is at copying data. As you know, my test computer has a 2 TB Kingston KC3000 SSD inside, an NVMe PCIe 4.0 drive working in x4 mode, capable of sustaining higher speeds than the external XS1000. In other words, there are no slowdowns on my end. To check the real-life reading speeds of the external SSD, I moved a 40 GB dummy file from the XS1000 to my computer. The data transfer rate was constant and slightly above 1 GB/s, which matches Kingston's claims. This is a great result, showing that the XS1000 really is a fast external drive.
Copying a large file from the XS1000 drive
What about the writing speed? Next, I copied the 40 GB test file from my computer's internal SSD to the portable XS1000 drive. The writing speed fell to about 790 MB/s. It's lower than what Kingston advertises the SSD to be able to sustain, but it's fast nonetheless.
Copying a large file on the XS1000 drive
The Kingston XS1000 external SSD delivers impressive performance in everyday use. Its data transferring speeds are excellent, and unless you're a professional who works with extremely large files, you'll certainly be satisfied with what the XS1000 solid-state drive offers.
Performance in benchmarks
To get a clearer picture of the performance offered by the Kingston XS1000 portable SSD, I also ran a couple of benchmarks. Furthermore, in the next charts, I also included the results I got with this drive's bigger and more expensive brother, the XS2000. The comparison may provide you with some useful information in case you need something even faster than the XS1000, though I believe this is an excellent choice for most people.
I started with using CrystalDiskMark to benchmark the XS1000 portable SSD because this is probably the best tool for assessing both the sequential and random read/write performance of any drive. In the data reading tests, the Kingston XS1000 achieved sequential speeds of 1000 MB/s and more, which is exactly right on point with its specs. The results for the random data reading speeds were excellent, too, and they even surprised me. Look at the RND4K Q32T1 test in the following chart: it measures the drive's performance when reading random 4 KB chunks of data with 32 processes in the queue and on a single thread. Technical, I know; in common vocabulary, this tests the performance of reading small files. Going back, the XS1000 managed a speed of 210 MB/s in this test, while the high-end XS2000 reached 182 MB/s. This translates into a performance increase of over 15% offered by the XS1000 compared to the more expensive XS2000!
Data reading benchmark results in CrystalDiskMark
In the data writing tests, CrystalDiskMark showed that the Kingston XS1000 reaches and occasionally even surpasses the official specs. Sequential writing speeds were above 1000 MB/s, while the random writing speeds were excellent and on par with the ones I recorded for the Kingston XS2000 SSD.
Data writing benchmark results in CrystalDiskMark
Next, I tested the XS1000 solid-state drive with PCMark 10's Data Drive Benchmark. This benchmark writes 15 GB of data on the SSD during the tests and is designed to measure the performance of drives that are used for storing data rather than applications. The XS1000 SSD achieved a remarkable score of 988 points. Though technically a bit higher than the one I got for the XS2000, both drives had excellent results, and the difference between them falls within the margin of error.
Data Drive Benchmark results in PCMark 10
The final benchmark I ran was the Disk Speed Test from BlackMagic's Desktop Video, a software tool for working with video files. The results of this test are important for those who deal with video production and editing, as they require fast storage devices that can handle large files well. The Kingston XS1000 SSD achieved sequential read and write speeds of 1011 MB/s and 958 MB/s, respectively, in this test. These results are excellent and consistent with the specifications of the XS1000 SSD, although they can't match the ones of its more expensive brother, the XS2000.
Data read and write benchmark results in Blackmagic
The benchmarks I ran confirm that the Kingston XS1000 external solid-state drive is a high-performance device that can achieve impressive read and write speeds.
What's your opinion about the Kingston XS1000 external SSD?
I've been using the Kingston XS1000 for some time now, and I'm quite impressed by its performance. It feels like a great choice for its price, don't you think? Are you planning on getting one? Or are you still looking at options because you need an even faster portable SSD or maybe one with hardware encryption? Don't forget: you can always post your opinions in the comments section, and if you'd like us to keep you updated with our latest articles and reviews, you can subscribe to our newsletter.