Okay, so you've switched back and forth between the wallpapers included with Windows and you've yet to find one that fits your style. Or maybe you want that character from your favorite game on your desktop. So you start searching the internet for the best background images for Windows 10 or Windows 11 and you end up here. Well, Digital Citizen delivers, as always. Here's a list of eleven awesome 4K wallpapers for Windows 11 and Windows 10, with a bonus: a way to animate your desktop background! Read on and pick your favorite:
1. Heart 4K wallpaper by Justin Maller
With Valentine's Day just around the corner, here's a wallpaper guaranteed to make you all warm and fuzzy inside, while keeping your cool looks on the outside. And on your desktop, too. You can download it in all sizes from here: Love heart Wallpaper 4K.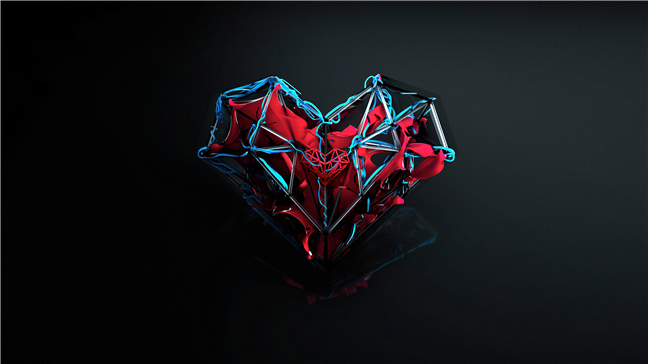 Love heart Wallpaper 4K by Justin Maller
2. Silhouette Of Mountains by Simon Berger
It's always good to keep things into perspective. Especially if it's a very wide perspective, like this awesome 4K wallpaper from photographer Simon Berger. This wallpaper keeps things simple, so you can still find your icons on the desktop, while at the same time giving you a glorious view of the mountains in Altmünster, Upper Austria. You can download it in any size here: Silhouette Of Mountains by Simon Berger.
Silhouette Of Mountains from Simon Berger
TIP: If you want to know more about changing your wallpaper, here's an article giving you six ways to change the background on Windows 11 and another article for Windows 10: 4 ways to change the desktop wallpaper in Windows 10.
3. Dubai Skyline by Aleksandar Pasaric
So you like the perspective, but you want something more urban? Then, this beautiful panorama of the Dubai skyscrapers covered in fluffy clouds might be for you. The image can be downloaded in 4K, as well as other sizes, here: View of Cityscape by Aleksandar Pasaric.
Dubai Skyline by Aleksandar Pasaric
4. Witcher theme pack
The popular Netflix show The Witcher has gathered a huge number of fans all over the world. Whether you've played all the games, read the books, or binge-watched the series, this Full HD theme pack will surely take you back to the fantasy realm. And frankly, we don't mind having Henry Cavill stare at us while we work. Download it from here: The Witcher (TV Show) Theme for Windows.
Witcher Full HD wallpaper
5. Cyberpunk 2077 4K wallpaper
Cyberpunk 2077, despite its rocky launch, is still one of the best-looking games out there, and we've played it quite a lot on our Windows PCs. Here is a Cyberpunk 2077 4K wallpaper that we particularly liked (featuring one of our favorite characters, Judy), but you can find tons more on the same website: Judy (Cyberpunk 2077) 4k Ultra HD Wallpaper.

Judy (Cyberpunk 2077) 4k Ultra HD Wallpaper
6. Very Peri - Pantone Color of the Year 2022
If you don't want to stray too much from the beaten path, you can try a familiar background image (hint: it's similar to the stock background image for Windows 11) in a new color. And when we say new, we mean just that: the dominant color in the image is the Pantone Color of the Year 2022, Very Peri.
Very Peri - Pantone Color of the Year 2022 wallpaper
If you consider this to be too dark for your taste, don't worry, there are three other wallpapers that include this new color, all in the same theme that can be downloaded from the Microsoft Store: Get Pantone Color of the Year 2022. Unfortunately, you can only download the theme if you have a Microsoft account (unlike many free apps from the Microsoft Store), but our colleagues at Xda-Developers.com have extracted the images in 4K. Click here to go to the download page and get whichever one you like most.
7. Bugatti Chiron Super Sport 300+ 4K Wallpaper
If you're a car enthusiast, you know that the Bugatti Chiron Super Sport 300+ is one of the most exclusive and powerful production cars ever made. The 300+ in the name stands for 300+ miles per hour, because the Chiron was the first production car to surpass 300 mph in tests. With only 30 cars in production and a price tag in excess of 3.8 million USD, most of us will only see one in pictures. But one can still dream, right? If it doesn't fit your budget yet, here's a 4K wallpaper of the sexy Bugatti supercar that does fit perfectly on your Windows desktop: Bugatti Chiron Super Sport 300+ Wallpaper 4K.
Bugatti Chiron Super Sport 300+ 4K Wallpaper
8. Minimalistic 4K lakeside wallpaper from Louis Coyle
We will always be fans of minimalist wallpapers. They help us focus while providing just enough décor to our workplace. Here is a 4K wallpaper that has lots of space for icons and provides a touch of style at the same time. You can get it here: Lakeside Wallpaper 4K, Sunset, Deer, Minimal art.
Minimalistic 4K Lakeside Wallpaper from Louis Coyle
9. Hello Kitty 4K wallpaper
Here's another minimalist wallpaper, this time an actual picture and not a drawing. It features a Hello Kitty neon sign on a dark background, the perfect setting for high icon visibility and lots of "Awwww…" from your colleagues. You can download it in many different sizes, including 4K and Full HD, here: Hello Kitty Wallpaper 4K, Neon sign.
Hello Kitty 4K wallpaper
10. Old Port Of Maassluis 4K desktop wallpaper
Ever stumbled upon a photo at which you had to look twice to believe it was real and not a drawing? If not, here's an example. From the lighting, the details, and the framing, everything is magical and makes us stare at the image for minutes. Come to think of it, not a great idea if you want to get any work done on your computer, but hey, at least it's gorgeous! You can download it from here: HD wallpaper: Old Port Of Maassluis Netherlands.
Old Port Of Maassluis 4K Desktop Wallpaper
11. Ocean waves wallpaper
Our final pick for this list is a bright wallpaper that makes us think of lazy days in the sun and the sound of waves at our feet. It's guaranteed to decrease productivity by a solid 5% due to daydreaming, but it also improves the mood, so overall we think it's beneficial to your workspace. Here's a link for downloading it in many sizes, including Full HD and 4K: HD wallpaper: 4k windows, water, sea.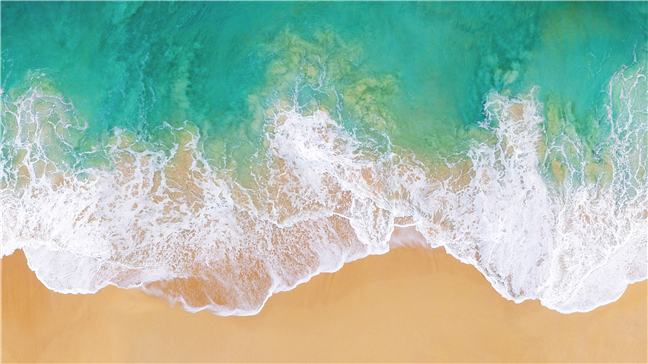 Ocean waves wallpaper
Bonus: Animate your Windows background image for free with Lively Wallpaper!
If you really want to take desktop personalization up a notch, you can even animate your wallpaper, for free. To do this, simply open the Microsoft Store and download the Lively Wallpaper app.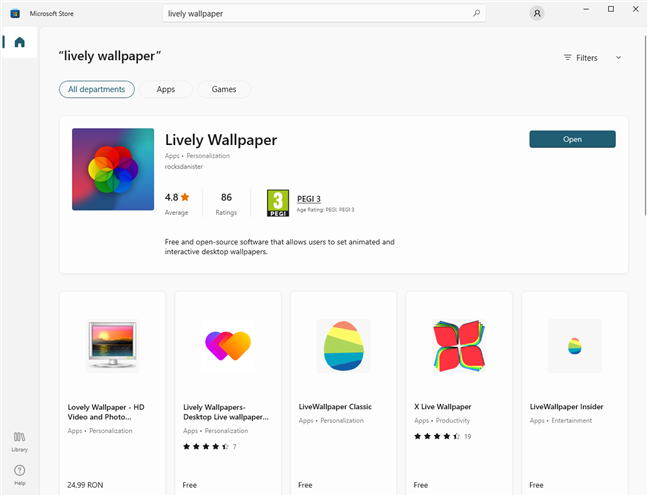 Download Lively Wallpaper from the Microsoft Store
It has several live wallpapers to choose from, but you can import lots more and even put your own clips onto the desktop (just hit the plus sign on the left of the window). Some of the wallpapers react to mouse movements, some are fully customizable as well with a simple right-click on the selected item.
The Lively Wallpaper main window
We absolutely loved the Parallax.js wallpaper, as every element reacts to the movement of the mouse cursor. And no, it doesn't make you seasick!
A surreal animated wallpaper from Lively Wallpaper
TIP: You can also get a free daily wallpaper from Bing, using the instructions from this tutorial: How to get a daily Bing Wallpaper in Windows 11 with Windows Spotlight.
Which wallpaper is your favorite?
You now have some great background images for your Windows desktop and several sources for more. Before you close this article, let us know which one is your favorite. Did you choose one from the list or did you go for a live wallpaper? Leave a comment below if you enjoyed our selection.