Performance in benchmarks
Looking at the hardware inside the ASUS ROG Flow X16 (2022), it is clear that we are dealing with a high-performance device. But how does this translate into numbers that you can compare with other laptops of its kind? For that, you must run a couple of benchmarks. I started by measuring the time needed to boot and load the Windows 11 desktop with the help of BootRacer. I was happy to see that this laptop started in just 24 seconds, which is a great result that will satisfy many users. Not sure if people realize it, but Android loads a lot slower than Windows does nowadays, even on premium devices.
How fast Windows boots on the ASUS ROG Flow X16 (2022)
Next, I used CrystalDiskMark to test the laptop's 1 TB NVMe PCIe 4.0 solid-state drive. Everybody writes and reads data from their computers, and SSD performance is an important metric. As you can see below, both the reading and writing speeds were top-notch.
SSD benchmark results
Then, I ran PCMark 10 on the ASUS ROG Flow X16 (2022). This app is designed to measure performance in regular productivity tasks such as working with Office apps, videoconferencing, browsing the internet, and creating digital content.
As you can see below, the laptop managed a score of 7114 points. That puts it in the top 11% best computers and laptops tested with PCMark 10!
Benchmark results in PCMark 10
Next are the gaming benchmarks. I started with 3DMark's Time Spy, where the laptop got a high score of 8781 points, confirming that we are dealing with a powerful system that's perfectly suited for gaming.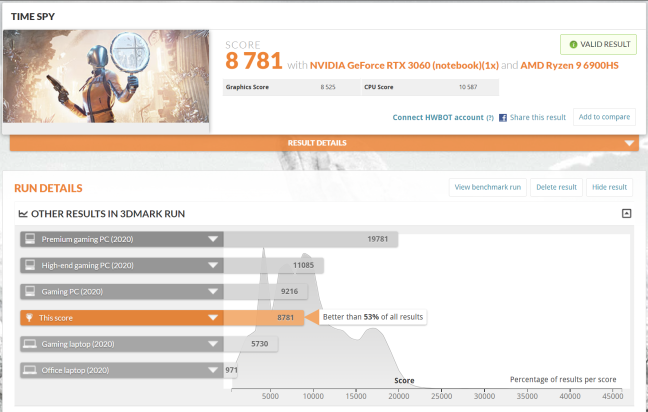 Benchmark results in 3DMark Time Spy
I also ran a few benchmarks in a couple of demanding games: Horizon Zero Dawn, Metro Exodus, and Cyberpunk 2077. I started with Horizon Zero Dawn, an older game with good graphics. I used the native QHD+ resolution (2560x1600) and the Favor Quality preset.
As you can see, ASUS ROG Flow X16 (2022) delivered an average frame rate of 94, which is great. You shouldn't have any problems running older titles at high-quality settings, using the maximum resolution.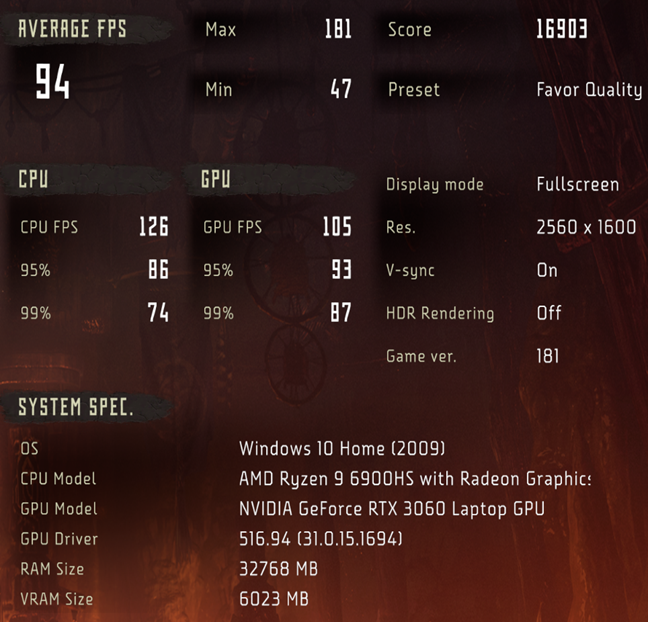 Horizon Zero Dawn runs great on this laptop
Metro Exodus remains a beautiful and highly demanding game. I ran it at 1080p, using the Ultra quality settings, and ASUS ROG Flow X16 (2022) managed to achieve an average frame rate of 54.86 fps and a maximum of 79.92 fps.
Benchmark results in Metro Exodus
Cyberpunk 2077 is a popular modern title with excellent graphics which demands a lot from your computer. Therefore, I used the Full HD resolution and the High quality preset. As a result, ASUS ROG Flow X16 (2022) delivered an average of 51.48 frames per second and a maximum of 72.66 fps, which is an excellent result.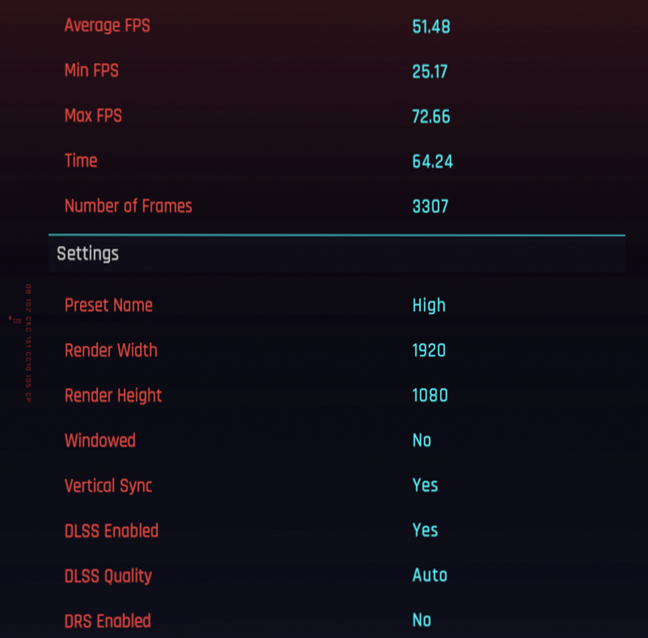 Benchmark results in Cyberpunk 2077
If Cyberpunk 2077 runs well on this laptop, all modern games should, at least in 1080p resolutions.
To see how well the laptop's cooling system fares in demanding situations, I ran AIDA64's system stability tests for the processor (CPU, FPU, and cache stress tests). The processor reached a maximum of 95 degrees Celsius when pushed to the max. During the five minutes of stress testing, the average temperature for the CPU was 93.2 Celsius. That's a bit higher than what I expected.
Processor temperatures in very demanding situations
In the end, I ran PCMark 10 once more, but I used its Modern Office battery tests this time. That's to see how much the laptop can run on batteries alone while doing office-like activities. The ASUS ROG Flow X16 (2022) kept on going for 8 hours and 7 minutes, which is a great result.
The battery life is quite good
The benchmarks confirm that the ASUS ROG Flow X16 (2022) is a top performer in gaming and productivity tasks. This 2-in-1 gaming laptop is great for running demanding games in 1080p resolutions and older games in its native QHD+ resolution, using High-quality settings.
Apps bundled with the ASUS ROG Flow X16 (2022)
Officially, this laptop comes with Windows 11 Pro preinstalled. However, my review unit had Windows 11 Home on it, and I noticed that in some countries, it is sold with this edition of Windows. Also, ASUS bundles a few additional apps alongside the traditional bloatware included by Microsoft:
Armoury Crate is great for configuring the cooling and performance
Armoury Crate - very useful in configuring your laptop's settings, performance, and cooling modes. You can also personalize the Aura Sync service and synchronize your lighting effects across ASUS devices and computers.
Aura Creator - can be used to create personalized RGB lighting effects for your laptop.
Dolby Access - use it to configure the Dolby Atmos sound settings and the Dolby Vision settings of your laptop's display.
McAfee LiveSafe - a 30-day free trial for a security product that includes antivirus and firewall protection. I don't particularly appreciate using it and recommend uninstalling it.
MyASUS - useful in accessing the latest driver and BIOS updates for the ASUS ROG Flow X16 (2022). You can use this app to register your laptop, manage your warranty, and access customer support services. Keep this app installed on your laptop and use it from time to time.
MyASUS is useful for updating drivers and the BIOS
I appreciate that the ASUS ROG Flow X16 (2022) is a lightweight device in terms of bundled software. With one exception, the apps you get are genuinely useful for managing your laptop, its drivers, and settings.
What's your opinion about the ASUS ROG Flow X16 (2022)?
Now you know what you get from ASUS ROG Flow X16 (2022) in terms of design, build quality, performance, user experience, and battery life. However, before closing this review, let me know in the comments section whether you like it and whether you'd consider it as your next gaming laptop.