The gaming headsets market is filled by a vast range of options. Going from very cheap to premium prices, there are headsets for anyone's taste and wallet. Few of them, however, manage to offer a good balance between the audio quality and their price. ASUS ROG Delta is a gaming headset that, among other things, features a Quad-DAC for superb audio quality, beautiful and comfortable design, and RGB lights. It sits in the premium range of gaming headsets, and its features place it in the audiophile high-resolution sound range. What's it like using the ASUS ROG Delta in the real world? Is it as good as ASUS promises it to be? Find out from our review:
ASUS ROG Delta RGB gaming headset: Who is it good for?
The ASUS ROG Delta headset is an excellent buy for:
Gamers who want an excellent headset for an immersive sound experience in games
Users who wish for superb Hi-Fi audio quality when listening to music
Those who appreciate beautiful and well-built devices
Fans of Republic of Gamers and RGB lighting
Pros and cons
There are many positives about the ASUS ROG Delta:
Thanks to its Quad-DAC, the audio experience in games is of excellent quality
The headphones are comfortable to use even for long periods of time
The headset is robust and well-built, so it should have a long lifespan
It uses a USB Type-C port and has an extension USB Type-A cable
It is compatible with many different gaming platforms: PCs, Macs, mobile devices, PlayStation 4 & Nintendo Switch consoles
Unique RGB lighting effects
It comes with two different models of ear cups cushions
The Armoury Crate app works well and offers a lot of settings
There are also a few downsides about the ASUS ROG Delta:
The microphone seems to add an unwanted buzzing sound at times
Its price is not for everyone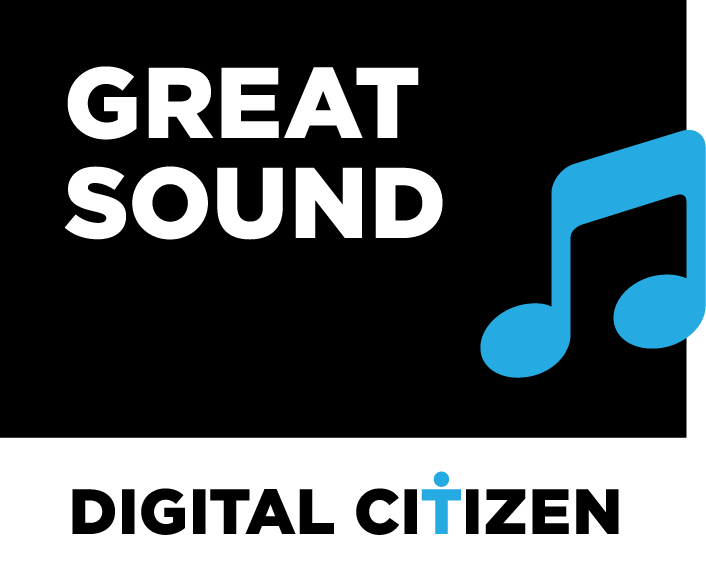 Verdict
The ASUS ROG Delta is beautiful, robust, and comfortable. Furthermore, it offers powerful and crystal-clear sound, and the Quad-DAC in it gives you excellent audio quality at all sound frequencies. This is what we'd call an audiophile gaming headset. It is like no other gaming headset we have tested in recent years. Although some might say that it is too expensive, you should take into consideration the fact that it comes with a Quad-DAC and delivers Hi-Fi sound, even if it's "just" a gaming headset. Think about what it would cost you to buy an audiophile Hi-Fi pair of headphones and a separate DAC for your computer, and you'll understand that the price tag of the ASUS ROG Delta is not so high after all. We warmly recommend the ASUS ROG Delta to all the gamers out there who also enjoy listening to music at high quality.
Unboxing the ASUS ROG Delta RGB gaming headset
The ASUS ROG Delta is a premium RGB gaming headset, so ASUS packaged it inside a premium box. We received the White Edition of the ROG Delta, and its box was all-white, featuring a large picture of the headset on its front side, as well as some information about it. For instance, you find out right from the start that it received an IF Design Award in 2019, which is quite an accomplishment.
On the back of the box, ASUS printed plenty of information about the headset, showcasing its main features and specifications, like the fact that this headset makes no compromises when it comes to audio fidelity, featuring a Hi-Fi ESS 9218 quad DAC!
When you open the box, you are greeted by a letter from the Republic of Gamers that welcomes you into the community. Then, you get to see the headphones, which, frankly, look gorgeous.
Besides the ROG Delta headphones, the package bundles a detachable microphone, an additional pair of ROG Hybrid ear cushions, a USB-C to USB 2.0 (Type-A) adapter cable, the user guide, and warranty documents.
Unboxing the ASUS ROG Delta gaming headset is a delightful experience, worthy of a premium gaming device. The additional ear cushions that you get in the bundle are a nice touch.
Design and hardware specifications
The ASUS ROG Delta headset has drivers made from neodymium magnets with a large 50 mm diameter. The headphones have an impedance of 32 Ohms and a frequency response between 20 and 40000 Hz. The highest frequency response is much higher than what you see on regular gaming headsets, which usually revolve around 20000 Hz.
Furthermore, what makes the ASUS ROG Delta stand out from the crowd is the fact that it features a high-resolution ESS 9218 Quad-DAC (Digital to Analog Converter). It is something rather unusual in the world of gaming headsets, as Hi-Fi DACs are usually reserved for Hi-Fi headphones designed for rich music experiences, not for gaming. The Quad-DAC found on the ASUS ROG Delta uses its four DACs, one for each frequency range: lows, mids, highs, and ultra-high pitched sounds. Then, those four signals are combined to deliver a more powerful and rich listening experience than a single DAC could produce.
To increase the audio quality even further, thanks to the Quad-DAC, the ROG Delta has a higher SNR (Sound to Noise Ratio) than headphones with a single DAC can offer. The ROG Delta has an SNR of 127 dB, while single-DAC gaming headphones usually revolve around 90 to 100 dB.
The ASUS ROG Delta headset connects to your PC, gaming console, smartphone, or any other device using a USB Type-C connector. However, in the box, you also get an extension USB Type-C to Type-A cable that you can use to connect the headset to computers or devices without USB Type-C ports or to increase the length of the cable. Speaking of which, the headset's USB Type-C braided cable is 1.5 meters long (59 inches), while the extension USB Type-A cable has a length of 1 meter (39.4 inches), and it's coated in rubberized plastic.
The ASUS ROG Delta headset is RGB-lit: on both its D-shaped earcups, there are large round-cornered triangles with ROG logos inside. It looks quite stunning with the lights on, especially when the lights coming out of the triangle-shaped LED bands have rainbow effects. That's made possible by the seven independent lighting zones from the LED strip, a first in the world of gaming headsets, according to ASUS.
Being a headset, not just a simple pair of headphones, the ASUS ROG Delta also includes a microphone. It is a detachable mic, so you can mount it only when you need it. Designed for voice communication during multiplayer games, this unidirectional boom microphone has been certified by both Discord and TeamSpeak, two of the most popular voice communication services for gamers. Another nice touch from ASUS is the fact that the mike features a small status indicator on it, that lights up red when it's muted.
On the left earcup, the ASUS ROG Delta also includes a switch for turning the RGB lighting on or off, and a volume rocker that also acts as a button for muting or enabling the microphone. We honestly think that this placement is a much better choice than the in-line controls found on many gaming headsets.
The headset is made mostly from high-quality plastic, with one exception. The headband is made from metal, and its bottom side (the one touching your head) is covered by a soft cushion. All the parts make the headset look great and seem to be durable. Furthermore, the ASUS ROG Delta headset is rather lightweight: 387 grams (13.65 ounces).
ASUS ROG Delta is available in two color editions: black and white. As seen in our photos, the one that we tested was the White Edition. Although color is a personal style matter, we've come to love white more than black, especially when it comes to electronic devices. 🙂
If you want to see all the specs and features of this RGB gaming headset, open this webpage in your browser: ASUS ROG Delta Specifications.
Using the ASUS ROG Delta RGB gaming headset
The ASUS ROG Delta is a large headset, although you wouldn't say that the first time you see it thanks to the svelte design and especially because its ear cups have a particular D-shape. Maybe the white color of the sample we tested also helps in this direction.
However large they may be, the headphones are incredibly lightweight. At only 387 grams (or 13.86 ounces) the ROG Delta does not feel heavy at all. That helps quite a lot in making them comfortable when you're in for a long session of gaming.
In spite of the fact that they are made of mainly plastic to keep their weight low, these headphones feel quite strong and solidly built. After examining their construction for a while, you realize that the headphones were carefully manufactured, and ASUS made no compromises when it came to details.
The D-shaped ear cups are theoretically better than round cups in terms of comfort and sound distribution. We can't say that this is a sure thing, as we also had good experiences with circular ear cups. However, we can certify the fact that the cups on the ROG Delta are comfortable. They're large enough to cover your ears entirely to avoid applying unwanted pressure. And, on top of the already mounted faux leather cushions, you also get another pair of ear cups covered in fabric mesh. We especially liked the latter, as they are taller than the pre-mounted faux leather ones, and let your ears breathe more. However, this is more of a personal choice in terms of comfort and style.
The headband is another well-crafted part of the headset. It is made of metal, so it stays firmly in its place. Also, it is covered in soft plush, making it pleasant to wear. The metallic strap is quite flexible and easy to adjust in terms of length. Another nice touch is the fact that the headband has small scales engraved in it, allowing you to adjust its length with precision.
We used this headset in a few games that we're playing right now: Assassin's Creed Origins, Shadow of the Tomb Raider, and the widely popular League of Legends. The audio quality is excellent! Superb and impressively real! Besides the well represented sound frequencies, the headphones are exceptional when it comes to in-game sounds localization. The surround sound effects let you easily pinpoint the direction from which footsteps or bullets come, while gunfire and explosions seem real and sound just right.
On the other hand, in League of Legends, we tested the microphone and, although our teammates said they could hear us well in general, sometimes they complained about hearing a buzzing noise. The strange thing was that there was no buzzing noise on our end of the line, so probably the mike has some issues, or the firmware of the headset needs some improvement in this regard.
We were also positively impressed by the ASUS ROG Delta when it came to listening to music. The headphones manage to deliver a superb audio quality in every type of music that we enjoy: metal, rock, pop, classic, or trip-hop. ROG Delta gives you powerful but clear sound regardless of the music genre, and the closed-back design of the ear cups isolates you from the noises around.
The ASUS ROG Delta proved to be one of the best gaming headsets that we've tested in recent years. It is comfortable and beautiful, delivers powerful and clear sound, it accurately pinpoints enemies on the battlefield, and the overall audio quality is above many gaming headsets. The ASUS ROG Delta are the headphones that audiophile gamers should spend their money on.
Drivers and software
Regarding drivers and software, in Windows 10, the ASUS ROG Delta is managed by the Armoury Crate app. The app is designed to offer a centralized location for all the devices, settings, profiles, and other features for all your ASUS hardware. For the ROG Delta headset, it allows you to control various Audio features, such as the Sound Optimization profile used, Virtual Surround Sound settings, and audio quality.
The Armoury Crate app is also where you can control the RGB lighting effects on the ROG Delta headset. The headphones support Static, Breathing, Strobe, Color Cycle, Rainbow, and Music lighting effects.
And, if ASUS releases new firmware for the ROG Delta headset, Armoury Crate allows you to install it easily, with just a few clicks or taps.
Configuring the ASUS ROG Delta audio settings, personalizing the RGB lighting effects, and updating the firmware are things easily done from the Armoury Crate app. We had no issues with this app, and the options available are plenty, so we're giving it a positive rating. 🙂
What is your opinion about the ASUS ROG Delta RGB gaming headset?
Now you know what we think about the ASUS ROG Delta headset. It's a superb gaming headset that offers high-quality audio, beautiful looks, solid build quality, and comfortable wear. Do you agree? Do you intend to buy this headset? Share your opinion in the comments section below. If you already own this headset, do not hesitate to share your experience with us and others that might be interested in buying it.