All manufacturers of consumer wireless routers and mesh Wi-Fi systems brag about offering some form of parental controls on their products. However, most approaches are very dated and inefficient. As a result, very few vendors provide truly useful parental controls on their routers, and ASUS is one of them. Here are seven things we like about the way they handle parental controls on their Wi-Fi routers:
1. It helps you block inappropriate content for children
With just a few clicks, ASUS Parental Controls allows you to block all kinds of inappropriate content:
Adult content (pornography, violence, illegal content, and gambling)
Instant Messaging and Communication (virtual communities, chat apps and services, internet telephony services, etc.)
P2P and file transfers, commonly used by websites that break copyright laws
Streaming and Entertainment (games, media streaming - including YouTube, internet radio, and TV)
Blocking inappropriate content for your children
Read how to set up Parental Controls on an ASUS router if you want to learn more about blocking inappropriate content.
2. Set time restrictions for your children's internet use
Children love mobile devices, games, and the internet. Therefore, it is easy for them to spend too much time online, negatively impacting their health and development. The Parental Controls found on most ASUS routers help you set a schedule for how long children are allowed to be online.
ASUS Routers come with Time Scheduling preset rules
You can set up an offline schedule with ease in just a few clicks. To learn more about how this is done, read: How to control your child's internet time on your ASUS router.
3. Protect your children from malicious websites
The parental controls on ASUS routers and mesh Wi-Fi systems are part of the AiProtection module developed together with Trend-Micro, an antivirus and cybersecurity software vendor. If you enable AiProtection, you can also protect your child's devices from malware, phishing, spam, adware, hacking, and ransomware attacks.
Protecting your children from malicious websites is a good idea
Considering how little children know about cybersecurity, what's safe and what's not, you surely want this kind of protection enabled for all the devices they're using.
4. Enjoy antivirus and parental controls protection on the go
Until recently, ASUS routers could protect devices only as long as they were connected to the network. If your child has a smartphone or tablet, the moment he or she uses it outside your home network, through its data plan, for example, the device is no longer protected by ASUS AiProtection and Parental Controls. Luckily, ASUS is now offering the mobile Instant Guard app for Android and iOS, which establishes a VPN connection to your ASUS router.
Instant Guard protects your child's smartphone when not at home
If you set up Instant Guard on your child's mobile devices to connect through VPN to your home network each time they're not on your Wi-Fi, your child continues to be protected by your ASUS router automatically. Here's how to configure and use Instant Guard on ASUS Wi-Fi routers.
5. Configure and keep track of parental controls from your smartphone
The parental controls found on ASUS routers and mesh Wi-Fi systems can be configured not only from your PC, when connected to your network, but also from your smartphone, while you are away from home. With the help of the ASUS Router app for Android and iOS, you can easily create parental control rules and keep track of what your child is doing, even when you're at work.
Setting up Parental Controls from the ASUS Router app
6. ASUS Parental Controls and antivirus are automatically updated
All consumer wireless routers brag about offering some kind of parental control tools. However, many vendors provide only simple blocklists that parents must configure manually. They have to add all the sites and content they want to block on their children's devices. This approach is not helpful because it involves too much work, and it doesn't do much to protect your children.
ASUS Parental Controls are cloud-based
Since the parental controls on ASUS routers are cloud-based, they are always up-to-date. The protection is handled by Trend Micro - an American-Japanese multinational cyber security vendor that works tirelessly to detect threats of all kinds on a daily basis. Therefore, once AiProtection and the Parental Controls are turned on and configured, you can rest assured that they cover the latest threats automatically without you having to do anything for maintenance.
7. Protection in 25 languages
A great plus of ASUS routers and mesh Wi-Fi systems is that they come with great multilingual support. The user interface is available in a whopping 25 languages, much more than other vendors of wireless routers. Therefore, even if you are not fluent in English, you can still easily configure your router and its parental controls.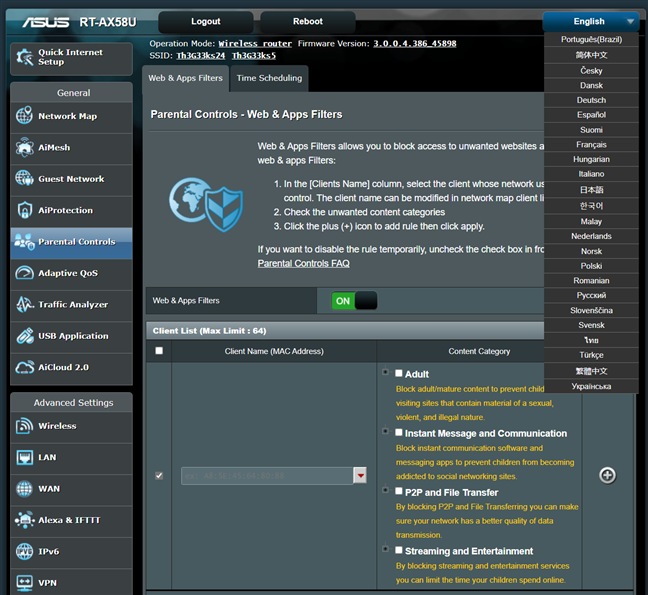 ASUS Parental Controls are available in 25 languages
The same applies to the ASUS Router app for smartphones and tablets.
Did you try the parental controls on your ASUS router?
Now you know what we like about the parental controls on ASUS routers and mesh Wi-Fi systems. Try them out, see for yourself how they work and if you're satisfied with the protection you get on your children's devices. Then, don't hesitate to get back to this article and share your opinion. Are these features useful? Do they work well? Comment below and let us know.