Samsung is focusing a lot on promoting their lineup of affordable smartphones that cater to people who don't have generous budgets. At the beginning of the year, the company launched several models that many people will be interested in Samsung Galaxy A02s (the most affordable budget model in their line-up), Samsung Galaxy A12, and Samsung Galaxy A32 (both in 5G and 4G variants). The company has sent us for testing all three models and asked us to share what we like most about them. Without further ado, here are six things we enjoy about the most affordable Samsung Galaxy smartphones of 2021:
1. Pleasant design, with nice colors and textures
We enjoy the design and the diversity of colors available for Samsung's lineup of affordable Galaxy smartphones. We especially appreciate the Samsung Galaxy A12 (pictured below) and the Samsung Galaxy A32 5G, which we reviewed here: Samsung Galaxy A32 5G review.
The colors available for Samsung Galaxy A12
You're not stuck opting only between black and white; you can also choose something more colorful like blue and red (in the case of the Galaxy A12), or violet (for the Galaxy A32). The stripe textures on the back of the Galaxy A02s and Galaxy 12 are also interesting and enhance your grip on the smartphone when holding it in your hands.
The stripe texture on the back of the Samsung Galaxy A12
It doesn't matter whether you're young or old, male or female, you prefer brighter colors or darker ones; it's easy to find a color you like.
2. Generous 5000 mAh battery that can easily last for two days
Samsung's lineup of affordable phones shares a generous battery with a capacity of 5000 mAh, which can easily last for two days of regular use. It's great when you work on the go, without access to a charger for most of the day. Also, if you are a parent who needs to share their smartphone with their child, you don't need to worry that your child's games or movies are consuming too much of your smartphone's battery. There will be enough left to get you through the day. The affordable price and the generous battery of these models make them an excellent fit for your children too, since they are likely to forget to charge their smartphone frequently and might use them a lot while you travel with them on vacations.
Budget Samsung Galaxy smartphones have a 5000 mAh battery
The downside is that charging a smartphone with a large battery can take a long time. To help with this issue, Samsung has bundled 15W fast charging on all three models.
3. Fast unlock with face recognition or your fingerprint
Unlocking your smartphone is something that you do a lot during the day. Unlocking it fast is something you want, as it improves your productivity and the quality of your user experience. To help you out, face recognition is available on all three models: Galaxy A02s, A12, and A32 5G. It works well, and it does a good job of recognizing you.
Face recognition available on Samsung Galaxy A02s, A12, and A32 5G
Additionally, on the Samsung Galaxy A12 and Galaxy A32 5G, the power button on their side also acts as a fingerprint sensor. It is fast and very convenient to use when you want to unlock your smartphone.
The fingerprint sensor on the Samsung Galaxy A12
4. Dual SIM and expandable storage available on all models
Many smartphone manufacturers force their users to choose between Dual-SIM and expandable storage. But what if you need to use two SIM cards (one for work and one for personal use) and extend the storage space? Samsung doesn't ask you to make this unpleasant tradeoff. Even the very affordable Samsung Galaxy A02s offers you both a microSD card slot and two slots for nano-SIM cards. The same goes for Galaxy A12 and Galaxy A32 5G.
Samsung Galaxy A02s can use two SIM cards and a microSD card
You get to enjoy plenty of storage space for your pictures and videos, and two SIM cards at the same time.
5. Good performance for most smartphone activities
Samsung Galaxy A02s, Galaxy A12, and Galaxy A32 5G are all affordable smartphones. Their hardware and performance can't be compared with that of mid-range or premium smartphones. However, it is reasonable to expect them to work well, without being sluggish, for normal day-to-day smartphone activities. The entire lineup is equipped with eight-core processors. There are also models with 3GB of RAM or more, which score well in benchmarks and provide a good user experience.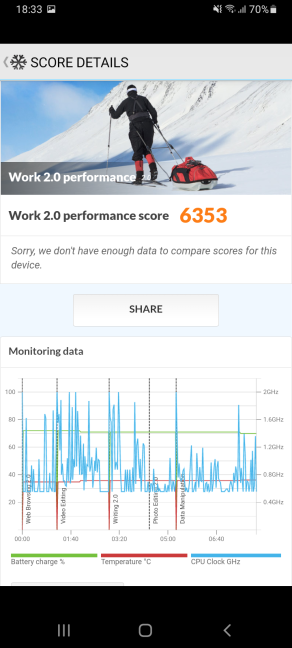 The PCMark score on a Samsung Galaxy A32 5G
We recommend that you buy the versions with 3GB of RAM or more to enjoy a smartphone that works well for many tasks: social media, YouTube, Netflix, Spotify, mobile shopping, browsing the web, mobile Office apps, casual games, and more.
6. Four years of Android updates
Most affordable smartphones don't get lots of updates because manufacturers tend to focus on the higher-end models that are more profitable. Samsung has pledged to offer four years of security updates for most of their Galaxy devices. The list includes the Samsung Galaxy A02s, Galaxy A12, and the Galaxy A32 5G. Each quarter, these smartphones will receive a new Android update that brings them up to par with other, more expensive models. In their fourth year, the frequency will lower from four updates to two updates per year.
Android updates are available up to four years
To make things even more appealing, the Samsung Galaxy A32 5G already comes with Android 11 and One UI 3.1 (Samsung's personalized user interface) installed by default, meaning that you get to enjoy the latest Android experience for a small price.
Which Samsung budget smartphone do you like best?
Now you know what we like about Samsung's lineup of budget phones in 2021. Before closing this article, tell us your opinion. Which Samsung budget smartphone do you like most and why? Which one are you interested in buying and why? Are you interested only in its low price, or do you appreciate other aspects too, like the generous battery? Comment below, and let's discuss.