The smartphone experience on the realme 11 Pro
Using the realme 11 Pro is a pleasure thanks to the materials involved in making this phone. The vegan leather on the back is soft and provides a good grip. Furthermore, the realme 11 Pro is bound to gather admiring looks and comments from others. Most people who see it assume it's a premium smartphone, much more expensive than it actually is. Kudos to realme for their design success with this phone. The screen is yet another impressive feature of the realme 11 Pro: it's large, bright, and offers good visibility even when used outdoors. Although the phone's size is not an issue for me, the width and height of the screen may be a problem for some (like children or women), who have to use two hands to navigate it properly.
The screen is large and bright
But let's get real for a bit (pun intended 🙂 ): this is a phone first and foremost, and it must work well to contact people. In this regard, realme 11 Pro offered no reasons to complain. I enjoyed good signal reception, 5G connectivity, and crisp voices during phone calls.
Cellular reception is good
The overall performance of the realme 11 Pro is good. Navigating apps and all the settings is fast and fluid. I had no problems with daily tasks or media playback, which were easily handled. Gaming was decent too, especially for casual games. If you're ok with using medium or, in some cases, low graphics quality, complex games will also run smoothly on this device.
realme 11 Pro works well for casual gaming
The stereo speakers on this phone sound well and are loud and balanced. realme 11 Pro is good for listening to music or watching movies. Its HDR10+ certified display helps with the multimedia experience.
The audio experience is pretty good
Unlocking the realme 11 Pro also works well when you use the fingerprint reader and face unlock. While not the best I've seen on a smartphone, both systems are fast and accurate.
You can unlock the phone with your face or your fingerprint
The battery of the realme 11 Pro lasts for a day and a half to two days of normal use. If you're a heavy user, you might get just one day. The charging is not as fast as it is on the realme 11 Pro+ 5G, but it's fast enough. The company says the smartphone can charge fully in 47 minutes, and reach 50% in 18 minutes. In my case, the phone's battery went from 0 to 100% in 44 minutes, which was slightly faster than the time advertised by its manufacturer.
How fast the realme 11 Pro charges
The experience of using the realme 11 Pro is a pleasant one. For a moderate budget, you get a premium-looking smartphone with a solid mid-range hardware configuration, excellent battery life, and decent fast charging.
The camera experience on the realme 11 Pro
The camera experience is where the realme 11 Pro differs the most from its more expensive brother, the realme 11 Pro+ 5G. First of all, this phone has fewer cameras, and it is capable of taking pictures in 100 Megapixels, instead of 200 Megapixels. It even has a dedicated 100M mode. However, the pictures you capture don't seem too different from the ones taken in the usual modes. The Camera app is identical on both phones, with similar options. I found it easy to navigate and configure.
The Camera app is easy to use
This phone takes good-quality photos in daylight, with excellent contrast, lots of detail captured, and the dynamic range is high. In most cases, the colors look natural, though there are certain situations where you may notice some oversaturation (colors are too vivid or punchy) and, at times, some of them come out yellow-ish.
You can take good pictures with the realme 11 Pro
In low-light photography, the realme 11 Pro performs well. You get pictures with plenty of details in bright areas, but some detail is lost in the darker spots. There's also some granulation, but not too much, and some softness around the edges when using the dedicated Night mode. However, in most situations, you will be pleased with the results you get.
A night picture taken with realme 11 Pro
When shooting portraits or taking selfies, you'll enjoy good separation of the subject from the background, a decent blur effect, and good focus. During daylight, portraits tend to feature natural colors and detailed skin textures. However, in low-light situations, the brightness and contrast of your portraits seems a bit overdone.
Potraits look pretty good
For a better perspective, you can find a gallery with dozens of pictures taken with the realme 11 Pro embedded below:
When you want to record videos with the realme 11 Pro, take into account the following limitations:
You can record videos in 4K resolution, but only at 30 frames per second and without optical image stabilization.
The best idea is to shoot in 1080p resolution. You can choose between recording at 30 fps or 60 fps, and you get to enjoy optical image stabilization (OIS).
The selfie camera can record at a maximum resolution of 1080p with a framerate of 30 fps. In this case, you get electronic image stabilization, which is good but inferior to the OIS available on the main camera.
The quality of the videos you record with this phone is generally good. Most times, you can enjoy good color reproduction and contrast, as well as high dynamic range. However, the optical image stabilization isn't great, and some videos tend to stutter.
Night video recording works pretty well too. However, there's some visible granulation, present in the areas which are not in focus, and some softness around the edges. The clip below exemplifies this quite well. It is recorded in 1080p, at 60 frames per second.
The realme 11 Pro offers a satisfactory photo and video recording experience. While it is not as good as the realme 11 Pro+ 5G, it's definitely competent for a smartphone in its price range, and most people are going to be happy with what they get.
Android 13, realme 4.0, and bundled apps
The realme 11 Pro runs on Android 13 with the realme 4.0 user interface on top. This phone will receive three years of security patches and the next two major Android versions. Other vendors offer software support for longer periods. realme 4.0 is easy to use and feels familiar to all Android users out there. It also includes a few "special features" like the ones listed in the screenshot below.
Some of the special features offered by realme 4.0 UI
Besides all the regular Google apps you find on Android devices, this phone bundles quite a lot of preinstalled apps:
Amazon Shopping: you can access your local Amazon store and purchase anything you want.
App Market: an alternative to Google's Play Store.
Bolt: the popular ride sharing app.
Booking: useful for planning trips and making hotel reservations.
BridgeRunIO: a bridge race game that's monetized through many ads.
Calculator: can be of service when math gives you headaches.
Clock: does what it says, which is telling the time.
Clone Phone: helps you migrate your data from your old phone.
Compass: a simple app that indicates the cardinal points.
Cornhole League: a weird game, filled with ads.
Crowd Rush 3D: a platform game, where you have to avoid traps and fight enemies, which is also filled with ads.
Facebook: the official app of the still popular social network.
Games: a hub where you can find and manage all the games installed on the smartphone.
Genshin Impact: a free-to-play action role-playing game available for Android, iOS, PlayStation, and Windows, featuring an anime-style open-world environment and an action-based battle system with elemental magic and character-switching.
Ice Cream Inc: a casual game in which you make ice cream. This one too is filled with ads.
Internet: a web browser with a simple user interface.
Joom: an international store, where you can buy all kinds of stuff.
LinkedIn: the app of the popular business and employment-focused social network.
Music: an app that helps you manage and play your music.
My Files: useful for managing the files and folders on your smartphone.
Notes: a minimalistic note-taking app that also lets you create to-do lists.
Phone Manager: helps you keep an eye on the well-being of your smartphone and perform optimizations.
Photos: the default gallery app on the smartphone.
Recorder: lets you record sound using the phone's microphones.
Royal Match: a game where you decorate castles and solve puzzles.
Screen Lock: does one thing only, and that's to lock your screen as soon as you tap on it.
Spotify: the popular music streaming service.
TikTok: the digital gate to the social network bearing the same name.
ThiefPuzzle: a game where you play the role of a thief and must solve all kinds of puzzles to steal the items you want.
Videos: a relatively simple app that lets you play locally stored videos.
Weather: displays the weather forecast for the upcoming days.
Woodoku: a game with logic puzzles that test your intelligence.
Zen Space: an app designed to help you eliminate distractions and focus on what matters. Its two features, Deep Zen and Light Zen, automatically silence all notifications for a set amount of time, to help you give your undivided attention to what you're doing, not your phone.
There are many apps and games preinstalled
While the realme user interface looks good, is easy to use and customize, the amount of bloatware included is too much. Prepare yourself for manually uninstalling many apps if you want a clean realme 11 Pro.
TIP: For help on this issue, here are four ways to uninstall apps on Android.
Performance in benchmarks
It's time to take an in-depth look at the performance offered by realme 11 Pro, and how it compares to other smartphones. I began benchmarking the realme 11 Pro with Geekbench. This phone reached a score of 944 points in the Single-Core tests and 2386 in the Multi-Core tests. These scores are almost identical to the ones of its more expensive brother, the realme 11 Pro+ 5G, and of the Samsung Galaxy A34.
The results you get in Geekbench 6
The second app I used for benchmarking the realme 11 Pro was 3DMark. In the Wild Life test, the smartphone scored 2305 points, while in Sling Shot, it got 5223 points. They're reasonable scores which show that it can run casual games without problems. However, for the more demanding games, you do need to lower the graphics quality settings to get a good level of performance.
The results you get in 3DMark
A similar level of performance was measured in GFXBench. I ran the Car Chase and 1080p Car Chase Offscreen tests, and they ran at 22 frames per second (fps) and 27 fps, respectively. Again, a decent result.

The results you get in GFXBench
The next benchmarking app I used is PCMark for Android, which measures general performance. In addition, it can also help determine how long the phone lasts on battery in real-world use. The Work 3.0 performance score reached by realme 11 Pro is slightly better than what you get from a Samsung Galaxy A34. Its battery also lasted an impressive 18 hours and 4 minutes of continuous use.
The results you get in PCMark
The realme 11 Pro also offers Wi-Fi 6 connectivity. Ookla's Speedtest app measured a download speed of 723 Mbps and an upload speed of 783 Mbps. They're simply excellent. At these speeds, 4K movie streaming is a breeze, and downloading large games doesn't take a lot of time.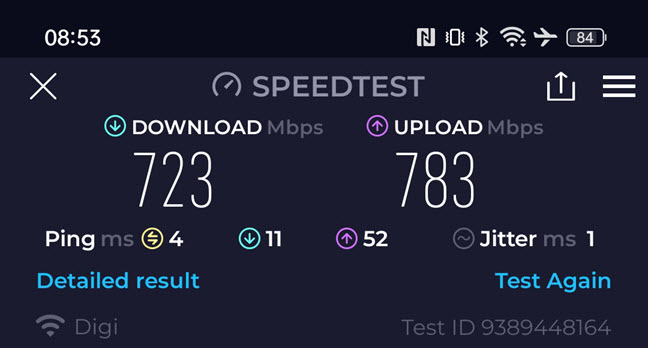 The results you get in Speedtest
The benchmarks I ran confirm that the realme 11 Pro is an excellent mid-range smartphone. Its performance in regular tasks is good, its Wi-Fi 6 connectivity is super fast, and the battery life is great. The only weakness is mobile gaming: you may need to lower the graphics quality presets in your games if you want great framerates.
What do you think of the realme 11 Pro?
Now you know more about the realme 11 Pro, its strengths, and weaknesses. I liked testing it and sharing my experience with you. Before you close this review, let me know what you think: Do you like this phone? What is its most appealing feature: its price, design, or hardware? Comment using the options below, and let me know.