Having a good headset for gaming is essential. You want your headset to be comfortable and to deliver good audio quality. Recently, Razer added a new gaming headset called Razer Kaira X to its lineup. It has already reached the stores' shelves, and we've had the chance to use and test it for a couple of weeks. The Kaira X is a gaming headset designed specifically for console gamers who play primarily on PlayStation or Xbox devices. Do you want to know what to expect from it and whether it would be a great choice for you? Read our review and find out:
Razer Kaira X: Who is it good for?
The Razer Kaira X is an excellent choice if you want:
A new headset for your PlayStation or Xbox gaming console
A headset that uses the classic 3.5 mm audio jack
A device that looks nice and is comfortable
Pros and cons
These are the things we like about the Razer Kaira X:
Good sound quality in games
Nice design that fits well with the PlayStation and Xbox consoles
Very comfortable to wear even for long periods of time
Decent passive noise-canceling
Good price
On the not-so-positive side of things:
The headset's cable is short if you intend to connect it to an under-the-desk PC
It's not great for music listening
The microphone is not detachable
Verdict
The Razer Kaira X shapes up as an excellent choice for console gamers who are looking for an extremely comfortable headset. It delivers good audio quality in games and is compatible with any device that has a 3.5 mm headphone jack. On the other hand, we wouldn't recommend it to those of you who want great audio quality while listening to music. But it's not targeted to that share of the market. Although we do appreciate the large drivers and comfy ear cups, the lack of an extension cable and the non-detachable microphone are not things we like. But, in the end, if you want a good entry-level headset for playing games, the Razer Kaira X should be on your try-first list.
Unboxing the Razer Kaira X headset
The Razer Kaira X headset comes in a large and good-looking package. On the front of the box, you get to see what the headset looks like, and you also get some clues on what to expect from it in terms of features and performance.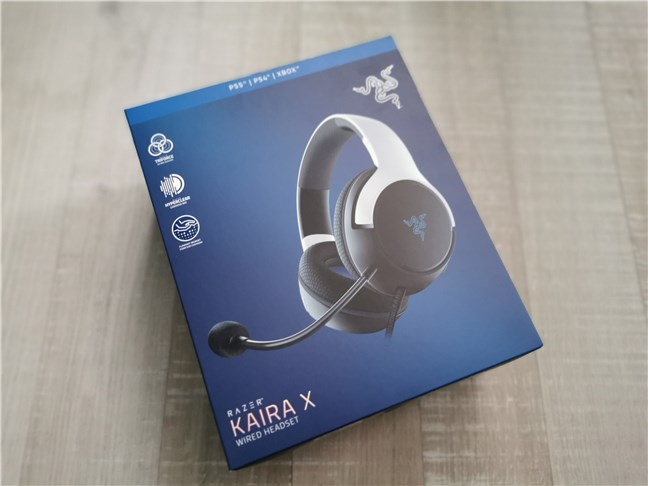 The packaging used for Razer Kaira X
On the back of the box, you get to see other photos of the headphones and also additional information about the Razer Kaira X.
Razer Kaira X - The back of the box
The content of the package is rather spartan: inside the box, you'll find only the headset, its user manual, and two Razer triskele stickers.
Razer Kaira X: What's inside the box
Unboxing the Razer Kaira X is straightforward, and the content is limited to the basics.
Design and hardware specifications
The Razer Kaira X is a nice-looking headset. The ear cups are large, as they accommodate 50 mm Razer TriForce drivers. The frequency response is found within a range of 20 to 20,000 Hz range. It's okay for a gaming headset, but not so much for music listening, in which case we would expect the range to go to 40,000 Hz, especially considering that this is a wired headset.
The Razer Kaira X
Although the Razer Kaira X is made and advertised as a headset for PlayStation and Xbox gaming consoles, its standard 3.5mm audio connector makes it compatible with any device that has such an audio jack. In other words, you can use it on any PC, laptop, or even smartphone that has a 3.5mm headphone jack.
Unfortunately, the length of the headset's cable is quite short: only 1.3 meters (4.27 feet). That's not great if you intend to use it on your gaming PC that's sitting under the desk. However, it's just the right length if you want to plug it into your PlayStation controller or your gaming laptop. Nonetheless, we believe it would have been a good idea if Razer had also included an extension cable in the package.
Razer Kaira X uses a 3.5 mm audio connector
The Razer Kaira X headset is mostly made of plastic materials, including its headband. Thanks to this design choice, it's light, weighing just 283 grams (0.62 lb). The ear cups and the headband are all covered with a material resembling textile, while inside the cushions, you get memory foam for increased comfort.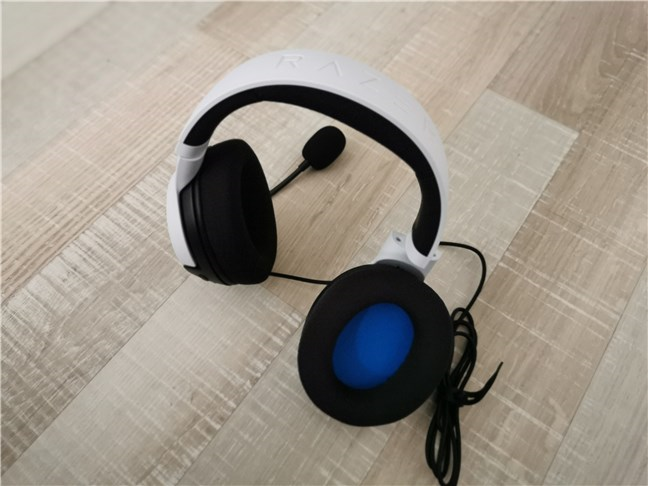 The Razer Kaira X has large ear cups
On the left ear cup of the Razer Kaira X, there's a physical volume wheel and a button that switches the microphone on or off. By the way, the microphone has a sensitivity of -42 ± 3 dB at 1kHz (frequency response between 100 and 10,000 Hz) and is not detachable.
The controls are found on the left ear cup
In terms of appearance, the Razer Kaira X headset is sold in two variants: the one addressed to PlayStation users is colored in black, white, and blue, while the one designed for Xbox players is colored in black and green. As you've noticed in previous images, we tested the PlayStation model.
The microphone is non-detachable
For more details about the technical specifications and features, visit Razer Kaira X – Tech Specs.
The Razer Kaira X looks nice and massive, thanks to its 50 mm drivers. However, because it's essentially all made of plastic materials, it's lightweight and appears to be a very comfortable headset for gamers.
Using the Razer Kaira X headset
Starting with one of the most important things about any gaming headset, we must say that the Razer Kaira X is exceptionally comfortable. Its large ear cups filled with memory foam, as well as the headband, are very soft and don't make your head or ears hurt, not even after prolonged gaming sessions. They also provide good breathability, so they're not going to make your ears sweat, even if you live in a particularly hot environment.
The headband of the Razer Kaira X
There aren't many buttons on the headset: just a volume wheel and a microphone switch. Their placement on the left ear cup makes it fast and easy to control the sound. After a short while, raising or lowering the volume becomes a simple task assigned to your muscle memory: left hand > left ear > spin the wheel. 🙂
Perspective look at the Razer Kaira X
There's no active noise-canceling on this basic headset, but there is excellent passive unwanted noise removal. The memory foam cushions on the cups do a great job of isolating sound around you. And the Razer Kaira X performs admirably when it comes to in-game audio quality too. The drivers deliver excellent low-frequency sounds (bass), which makes explosions and shooting feel great in FPS games, for example. On the other hand, music listening is not what we'd call a first-grade experience. Although the low frequencies are quite powerful, mids and highs could be better represented.
The Razer Kaira X is very comfortable
The microphone offers good quality in calls: we tried it in League of Legends to talk with other team players. It picks up voice well and clearly, while also removing some of the surrounding noise.
Finally, regarding software, we practically have nothing to say. Because it uses a standard 3.5 mm audio connection and is designed to connect to a multitude of devices, the Razer Kaira X is not supported by Razer's apps. It's what you'd call a plug-and-play device in the truest sense.
Razer Kaira X is a good gaming headset that delivers good audio quality in games, regardless of the device you're playing on. In addition, it's extremely comfortable and easy to use, making it an easy recommendation for PlayStation or Xbox gamers.
What's your opinion about the Razer Kaira X headset?
Now you know what to expect from the Razer Kaira X headset. It's basic, but a good choice for console gamers. So what do you like about it? Do you intend to buy one? Let us know what you think in the comments section below.