Intel recently launched two new series of Mini PCs in the Intel NUC family. These are the Intel NUC 13 Pro and Intel NUC 13 Extreme, two types of small form factor PCs designed and aimed at different audiences, but both offering high computing performance and plenty of customization options. While the Intel NUC 13 Pro is aimed at businesses in need of powerful yet small computers that fit in small spaces, the Intel NUC 13 Extreme is designed for gamers and content creators who want top performance but aren't willing to compromise on design. Curious to learn more about them? Read on to find out what the Intel NUC 13 Pro and Extreme Mini PCs are all about:
Intel NUC 13 Pro: A Mini PC that's perfect for businesses?
The Intel NUC 13 Pro Mini PC is a compact and powerful solution that can meet many of today's modern business requirements. It can be equipped with a range of powerful hardware components, and its small form factor design allows you to place it on any desk without taking up much space. Here are the strengths of the Intel NUC 13 Pro from my perspective:
Intel NUC 13 Pro is very small
Powerful hardware
As you can probably tell from its name, the Intel NUC 13 Extreme Mini PC is compatible with 13th-generation Intel Core processors. These are Intel's newest and most powerful processors, offering outstanding performance. Depending on the CPU model you choose for your Intel NUC 13 Pro Mini PC, you can have up to twelve cores (four performance cores and eight efficiency cores). The processor can also use up to 64 GB of dual-channel DDR4-3200 memory.
Customizable
Of course, the Intel NUC 13 Pro is available in several hardware versions. Depending on your preferences and budget, you can choose a model with a more powerful processor, install more RAM or add a larger SSD, go for a version that comes with Windows preinstalled, and so on. On top of being available as a Mini PC, the Intel NUC Pro 13 can also be purchased as a Pro Kit (with additional components you can customize).
Intel NUC 13 Pro can feature powerful hardware
Furthermore, you can even consider purchasing just an Intel NUC 13 Pro motherboard that you can configure as you wish and build your company's fleet of computers just the way you need.
Flexibility
Given the extremely small size of the Intel NUC 13 Pro, one of the benefits is that you can install this Mini PC in any space, no matter how small. If you want, you can place it on your desk, but you also have the option of mounting it on the back of a monitor using the included VESA support.
Intel NUC 13 Pro takes up very little space
Connectivity
When it comes to ports and connectivity options, the Intel NUC 13 Pro doesn't compromise. It offers multiple USB 3.2 Gen2 ports (Type A and C), two HDMI 2.1 ports, and two DisplayPort 1.4a via Type C ports, allowing you to connect up to four 4K monitors at once. There's also an Intel Ethernet 2.5 Gbps port, Wi-Fi 6E, and Bluetooth 5.3 for fast and stable connections.
Security
Intel NUC 13 Pro Mini PCs support Intel vPro Enterprise Technology, giving you the confidence that your data and devices are protected from cyber threats using hardware encryption, multi-factor authentication, and automatic updates. You also have the ability to remotely monitor and control your Mini PCs using solutions like Intel Active Management Technology or Intel Endpoint Management Assistant. However, it's worth mentioning that only some Intel NUC 13 Pro models benefit from Intel vPro Enterprise technology as well, so you might want to check before planning a purchase.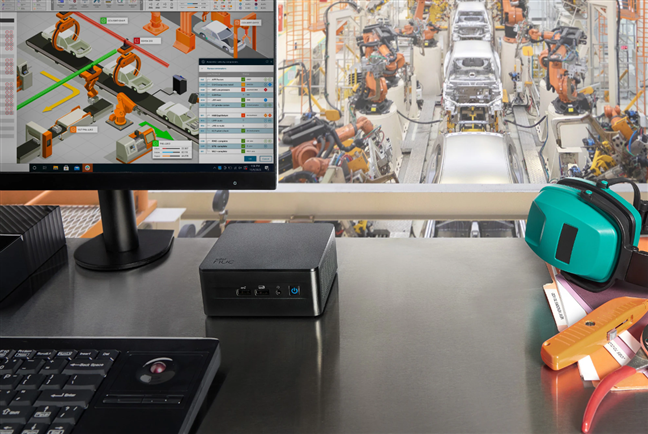 The connectivity options are generous
Reliability
Intel NUC 13 Pro Mini PCs promise 24/7 uptime and a lifespan of around five years. They also come with a three-year warranty.
All in all, if you're looking for a Mini PC that offers both performance, security, and flexibility, the Intel NUC 13 Pro shapes up as a great choice for any company, no matter how big or small.
Intel NUC 13 Extreme: Ideal for gamers with an eye for design?
Next to the Intel NUC 13 PRO Mini PCs, the company also offers another type of minicomputer with a similar name, Intel NUC 13 Extreme, but quite different in terms of concept, design, and target audience. This compact but powerful gaming PC could represent the ideal solution for gaming enthusiasts. As the most powerful Intel NUC kit to date, it can be customized with 13th-generation Intel Core processors, DDR5 memory, and full-size graphics cards. Here are the highlights of the Intel NUC 13 Extreme and the reasons you might want one:
Intel NUC 13 Extreme is built for gaming
Highly powerful, state-of-the-art processor
All Intel NUC 13 Extreme kits are equipped with 13th generation Intel Core processors. These are the company's newest CPUs, delivering top performance in both games and applications. On Intel NUC 13 Extreme computers, you can choose from the 13th Gen Intel Core i9, i7, or i5 models. They use a hybrid architecture, can have up to eight performance cores and sixteen efficient cores, and can reach maximum speeds of 5.8 GHz, depending on the model.
Support for large, powerful video cards
Although the motherboard included in the Intel NUC 13 Extreme kit is a small one, the kit itself (the chassis, if I may call it that) doesn't restrict you at all, allowing you to mount any video card, no matter how big and powerful. Specifically, the space provided gives you the option of mounting a video card up to three slots high and up to 12 inches long. This makes it a great choice for any gamer or content creator who needs a lot of graphical power, not just a fast CPU.
Intel NUC 13 Extreme supports large video cards
Support for modern hardware
In addition to the CPU and video card, the Intel NUC 13 Extreme also supports other modern and powerful hardware components. For example, on the Intel NUC 13 Extreme, you get a PCIe 5.0 x16 slot for the GPU, you can use DDR5 RAM (up to 64 GB), and you have the option to attach three SSDs (one PCIe 4.0 x4 NVMe port linked to the CPU, two PCIe 4.0 x4 NVMe or SATA 3 ports linked to the chipset). All of this should confirm that you're in for a smooth, fast, and lag-free experience in any game.
Additionally, the Intel NUC 13 Extreme is also generous in terms of connectivity and ports offered. Among other things, it's worth mentioning that you get two 10 Gbps and 2.5 Gbps Ethernet ports, two Thunderbolt 4 ports, eight USB 3.2 Type-A ports, and a frontal USB 3.2 Gen2x2 Type-C port.
Intel NUC 13 Extreme features modern hardware
TIP: To familiarize yourself with the benefits of DDR5 memory platforms, read our review: DDR4 vs. DDR5: Should you upgrade?.
Great looks and a new quiet thermal design
Intel says the NUC 13 Extreme was also designed and built based on a new thermal design. This is an improved version over previous models (NUC 12), featuring airflow optimizations to keep temperatures low even during intense gaming sessions. The fans are also quieter and more efficient, and the design of the case improves the airflow. And while we're on the subject of the case, it has a classier, more minimalistic look than it did in the past, as well as customizable RGB lighting on the front, something that many users should find appealing.
To conclude, my opinion is that if you want a relatively small but powerful PC, the Intel NUC 13 Extreme is an excellent choice. Given the configurations to choose from, the support for modern technologies, and the option to mount any video card on it, I think it's ideal for both gamers and content creators who value performance, design, and a small footprint.
NOTE: The Intel NUC products presented in this article are available in the EMEA region through ASBIS and its network of distribution partners.
How do you feel about the Intel NUC 13 Pro and the Intel NUC 13 Extreme?
Now you know more about these two new Mini PCs created by Intel. You know the audience for each, you know what they offer, and I think you already know if you want one. 🙂 So, what's your take on them? Do they look interesting to you? Do you need a line of Intel NUC 13 Pro computers for your company, or are you looking for an Intel NUC 13 Extreme for your inner gamer? Don't forget you can always leave a comment in the section below, and until next time, thanks for reading this post.