One of the first manufacturers that released Z690 motherboards to accompany Intel's Alder Lake processors is Gigabyte. And one of the most interesting models they have in stores right now is the Gigabyte Z690 AORUS Pro, a mid-range option with a lot of features and excellent technical specifications. We've tested it for a couple of days, and, in this review, we're going to tell you everything we found about it so that you can make an informed decision on whether you should buy it. Without further ado, let's begin:
Gigabyte Z690 AORUS Pro: Who is it good for?
The Gigabyte Z690 AORUS Pro is an excellent motherboard if:
You want a full-featured Z690 motherboard
You need a motherboard that offers excellent performance
You want to pay a reasonable price for a mid-range mainboard
Pros and cons
In our opinion, the best things about the Gigabyte Z690 AORUS Pro are these:
It's based on Intel's excellent Z690 chipset
It offers support for PCI Express 5.0 (GPU) and PCI Express 4.0 (M.2)
It's compatible with DDR5 RAM
It can fit plenty of fast M.2 drives, as well as SATA drives
It has a generous selection of USB ports
It comes with high-speed Ethernet and Wi-Fi 6
Its build quality is excellent
The VRM can deliver up to 90A of power (great for overclocking)
The only thing that some might not like about this motherboard is that it has no built-in LED lights. However, that's not something essential from our perspective.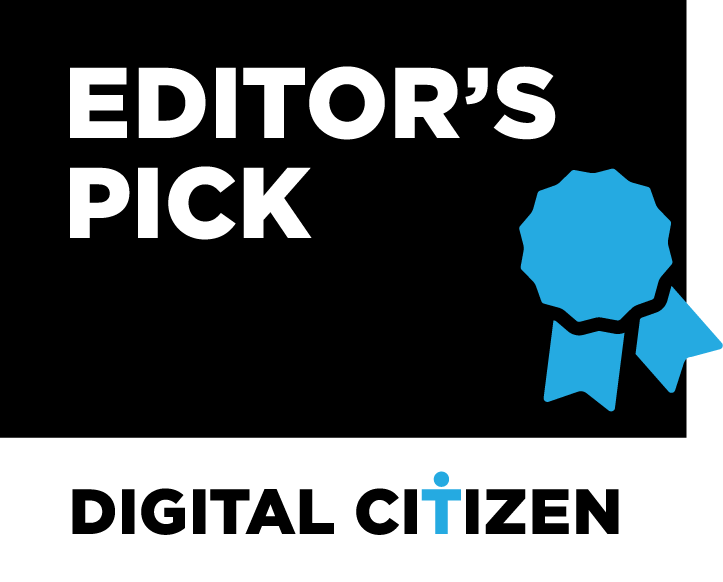 Verdict
Gigabyte's Z690 AORUS Pro is one of the best choices you could make when assembling a new desktop computer with one of Intel's 12th generation processors. It has all the features you need, its technical specifications are top-notch, and the price is reasonable. Benchmarking it showed that the performance you get from this motherboard is similar to that of much pricier options, so our conclusion can be only one: the Gigabyte Z690 AORUS Pro is a best buy and an excellent choice for gamers, as well as professionals and computer enthusiasts in general.
Unboxing the Gigabyte Z690 AORUS Pro motherboard
Gigabyte's AORUS Z690 Pro is a mid-range motherboard designed to work with Intel's latest 12th generation processors, which you find out immediately after you receive it if you look at the features and specs printed on its box. Speaking of which, the package looks good, it's made of rigid cardboard and features a Sci-Fi design with a stylized cyber-eagle picture on its top side.
The box of the Gigabyte Z690 AORUS Pro
Opening the box reveals the motherboard and its bundled accessories. Unfortunately, we received a testing sample, so it's likely that not everything was in the box. However, we did find the user manual, some screws, SATA cables, as well as some RGB and ARGB cables and connectors. Theoretically, you should also get a Wi-Fi antenna, as the motherboard includes wireless connectivity.
Gigabyte Z690 AORUS Pro: What's inside the box
When we unboxed the Gigabyte Z690 AORUS Pro, the first thing we noticed was that this is a good-looking motherboard overall.
Hardware specifications and design
The Gigabyte Z690 AORUS Pro is a motherboard targeted at gamers who are looking for something mid-range but full-featured and with a reasonable price. That is to say that this motherboard is one of the few reasonably-priced models based on the Z690 chipset you can get at the time of this review. At a price of about 330 USD, it gives you plenty of options and features.
Let's start with the design, as that's the first thing you see when you receive it. The motherboard uses black as the primary color, but most of its heatsinks are gray. The PCB and the I/O panel are painted black, contrasting with the lighter shades of gray on the top VRM heatsink and the plate covering the M.2 slots. Although there are RGB headers on it, the mainboard itself doesn't have built-in RGB LEDs. The only thing that lights up by default is the small Aorus text on the plate covering the I/O panel.
A view of the Gigabyte Z690 AORUS Pro
On the hardware side, one of the things that draw attention is the passively cooled, high-quality VRM (Voltage Regulator Module). It's able to deliver up to 90A, which means that you can overclock your processor without fear. 🙂
The processor takes its power from the motherboard via a standard 24-pin ATX main power connector found on the top-right side and also from two additional (one 8-pin and one 4-pin) connectors located in the top-left corner of the mainboard.
VRM and CPU power connectors
Because it's designed for Intel Alder Lake processors, or 12th generation Core CPUs if you prefer, the motherboard uses the new LGA1700 socket. Which means that, when publishing this review, the options you have are Intel Core i9-12900K and KF, Intel Core i7-12700K and KF, or Intel Core i5-12600K and KF. However, coming spring of 2022, Intel should launch other processor models.
The processor slot on the Gigabyte Z690 AORUS Pro
One of the best things about Intel's new CPU lineup is that, besides DDR4, they also support DDR5 RAM. The Gigabyte Z690 AORUS Pro motherboard works with the faster DDR5. There are four DDR5 DIMM slots on it, able to fit up to a maximum capacity of 128GB. The mainboard supports XMP 3.0 which, depending on the RAM modules you use, lets you easily set their speed at up to 6200MHz. And you can take that even further by overclocking your RAM if you want.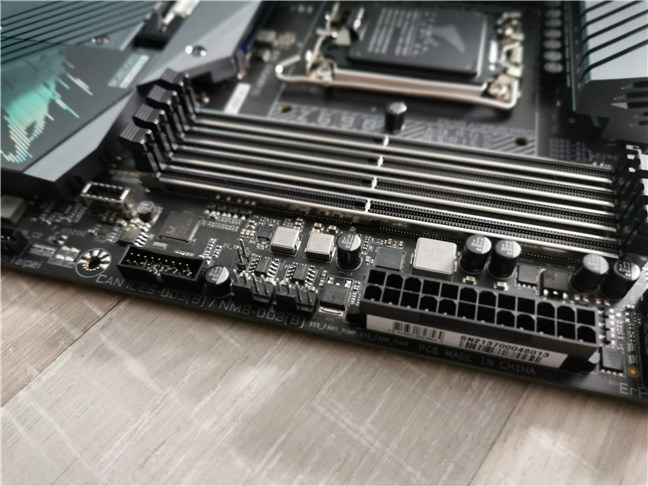 Headers and ATX power connector
Being based on the Z690 chipset, the motherboard also supports PCIe 5.0, though only for the graphics card slot (x16). However, there are also two PCIe 3.0 slots at the bottom of the mainboard, beneath the gray plate that covers some of the M.2 slots. Speaking of which, all the M.2 drives you connect can work in PCIe 4.0 x4 mode.
PCI Express 5.0 x16 slot for the graphics card
The network connectivity options on the Gigabyte Z690 AORUS Pro are excellent. For wired connections, we get an Intel I225-V chip supporting speeds of up to 2.5Gbps, and for wireless, we get up to 2.4Gbps connections via an Intel Wi-Fi 6 AX200 chip!
The Gigabyte Z690 AORUS Pro also delivers high-quality audio. It's equipped with a Realtek ALC4080 CODEC that has an excellent 120 dB SNR (Signal-To-Noise ratio) for playback and 110 dB SNR for recording. Strangely though, Gigabyte opted to mount only two jacks on the motherboard: one stereo output and one microphone input. However, the SPDIF OUT port supports audio rendering in 7.1 surround mode if you want it.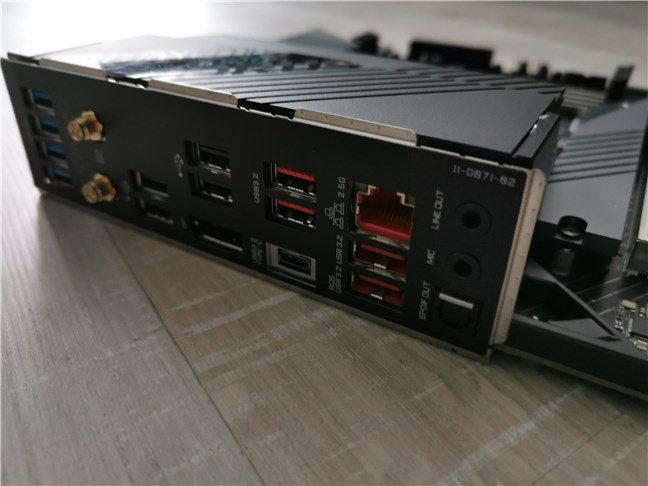 The input/output panel on the Gigabyte Z690 AORUS Pro
To continue with connectivity options, on the I/O panel, you also get plenty of USB and other types of ports: one USB Type-C port with USB 3.2 Gen 2x2 support, four USB 3.2 Gen 2 Type-A ports (the red ones), four USB 3.2 Gen 1 ports, four USB 2.0 ports, two SMA antenna connectors (2T2R), and one DisplayPort.
Then, there are all the internal input/output connectors and headers found on the motherboard. The list is long, but you might want to know what's on the menu, so here it is: one CPU fan header, one water cooling CPU fan header, four system fan headers, two system fan/water cooling pump headers, two addressable LED strip headers, two RGB LED strip headers, one front panel header, one front panel audio header, one USB Type-C header with USB 3.2 Gen 2x2 support, one USB 3.2 Gen 1 header, two USB 2.0/1.1 headers, one noise detection header, two Thunderbolt add-in card connectors, one Trusted Platform Module header, and two temperature sensor headers. Additionally, the motherboard also has a few built-in buttons and jumpers, as follows: a power button, a reset button, a Q-Flash Plus button, a reset jumper, and a Clear CMOS jumper.
M.2 slots under a heat plate and additional PCIe slots
If you want more details about the features and technical specs of this motherboard, check its official webpage, here: Gigabyte Z690 AORUS Pro Specification.
The Gigabyte Z690 AORUS Pro is a full-featured motherboard that offers almost everything you need in terms of hardware and options if you want to build a powerful PC using an Alder Lake processor, DDR5, and fast SSDs. Overall, we appreciate the build quality a lot. But regarding the way it looks, we would have preferred a completely black paint on it, including the heat spreaders. In our opinion, that would've been better, allowing for a full-black build, considering that there are practically no built-in RGB lights on it.
Read the next page of this review to see how the Gigabyte Z690 AORUS Pro motherboard performed in benchmarks with an Intel Core i7-12700K processor and how it compares to the premium ASUS ROG Maximus Z690 Extreme motherboard.