Intel recently launched the first 12 generation Core processors and their partners launched new motherboards based on the Z690 chipset too. One of the best is the ASUS ROG Maximus Z690 Extreme, a premium motherboard that comes with an "extreme" amount of features, bundled accessories, and components of the highest quality. Priced at well over 1000 USD, it promises top-notch performance for PC enthusiasts and gamers. We've had the pleasure to use and test it for a while, and now we'd like to tell you more about what it's like in real life and what to expect from it. If you're curious and want to see the ASUS ROG Maximus Z690 Extreme in action, read this review:
ASUS ROG Maximus Z690 Extreme: Who is it good for?
The ASUS ROG Maximus Z690 Extreme is the motherboard you should buy if:
You want the best money can buy
You want a gorgeous motherboard for your brand new high-end Intel Alder Lake processor
You want to future-proof your computer
Pros and cons
These are the best things about the ASUS ROG Maximus Z690 Extreme:
It uses Intel's latest and most powerful Z690 chipset
It supports PCI Express 5.0 and PCI Express 4.0
It works with the latest and fastest DDR5 RAM
It offers a lot of M.2 and SATA ports for storage
There are many USB ports, including Thunderbolt ones
It bundles high-end 10 Gigabit and 2.5 Gigabit Ethernet
The wireless chip supports Wi-Fi 6E
The build quality is premium, to say the least
The design is impressive, and we especially love the OLED display and the AniMe Matrix
Its VRM offers up to 105A of power, so overclocking your CPU is definitely in the cards
The only thing that's not so great about the ASUS ROG Maximus Z690 Extreme is its price, which is also extreme!
Verdict
The ASUS ROG Maximus Z690 Extreme is definitely one of the best Z690 motherboards. If you intend to build a high-end computer based on a 12th Gen Intel Core processor and want the best for it, this motherboard should be the one you buy. It delivers excellent performance, beautiful design, and premium build quality. The Maximus Z690 Extreme is also extremely rich in features, including incredible personalization options, as well as components and chips of the highest quality for everything from power delivery and connectivity to storage options. If your budget is generous and spending over 1000 USD for your new motherboard doesn't faze you, the ASUS ROG Maximus Z690 Extreme is the way to go.
Unboxing the ASUS ROG Maximus Z690 Extreme
The ROG Maximus Z690 Extreme is a high-end premium motherboard and that's obvious just by looking at its box. It arrives in a fairly large box made of hardened cardboard, painted in Republic of Gamers' black and red. On its top side, you get to see the full name of the motherboard, printed in silver, as well as some details about it and its features.
The box of the ASUS ROG Maximus Z690 Extreme
Inside the box, you find the motherboard tucked inside an antistatic bag. First impression: gorgeous!
The mainboard is protected by an antistatic bag
Under the mainboard, there's a rich compendium of bundled accessories and documents: cables (one 1-to-3 ARGB splitter cable, one 1-to-2 ARGB splitter cable, two 1-to-4 fan splitter cables, one RGB extension cable, three ROG weave SATA 6G cables, four SATA 6Gb/s cables, one 3-in-1 thermistor cables pack), a ROG Fan Controller (one ROG Fan Controller, one Fan EXT PWR cable, one ARGB input cable, one USB input cable, one ROG Fan Controller 3M mounting tape, a Fan Controller manual), ROG DIMM.2 with Heatsink (one ROG DIMM.2 with heatsink, one M.2 pad for ROG DIMM.2, two M.2 screw package for ROG DIMM.2), one ROG True Voltician and four cables for it, ASUS Wi-Fi moving antennas, one M.2 SSD screw package, one Q-connector, one ROG CLAVIS DAC, one ROG graphics card holder, one ROG key chain, ROG logo plate stickers, a ROG screwdriver, some other ROG stickers, a ROG thank you card, a thermal pad package for M.2 heatsink, a USB drive with utilities and drivers, and the user guide.
ASUS ROG Maximus Z690 Extreme: What's inside the box
Unboxing the ASUS ROG Maximus Z690 Extreme makes you feel like you've just bought a premium, top-of-the-line motherboard. This is a high-end product with an extremely rich bundle of accessories.
Hardware specifications and design
The ASUS ROG Maximus Z690 Extreme is not just your "average" high-end motherboard. It's a very expensive motherboard that, according to its Extreme moniker, gives you all the things you would expect from a premium device and also many others that you didn't even know you wanted.
Most of the motherboard is colored dark, and most of its inner electronics like circuits or capacitors are hidden from view, covered by elegant, gorgeous heatsinks, plates, and the head-turning AniMe Matrix display. This is a large and completely programmable LED panel (with 222 LEDs!) that covers the input/output shield, which you can use to display images or animations you like, or even make it react to the music you play on your computer. Let's talk Sci-Fi, right? 🙂
The ASUS ROG Maximus Z690 Extreme motherboard
The 24+1 voltage regulator module (VRM) is covered by large heatsinks and can deliver up to a massive 105A, which tells you right from the start that you should have absolutely no issues overclocking any 12th Gen Intel Core "Alder Lake" processor. Even the M.2 drives that you'll probably install on this motherboard are protected and cooled by huge heatsinks with special textures and designs that hide the SSDs from view and make the motherboard look more like a unified device.
Large radiators cover the VRM
The power is delivered to the VRM by three EPS connectors: a standard 24-pin ATX main power connector found along with others under a dedicated plate on the right side of the motherboard, and two 8-pin connectors positioned on the top-left of the mainboard, above the I/O panel.
Perspective view of the ASUS ROG Maximus Z690 Extreme
As the ASUS ROG Maximus Z690 Extreme is designed for the latest generation of Intel processors (12th Gen), it sports the brand new LGA1700 socket. This socket is only used by Alder Lake processors, so you can't reuse an older Intel Core CPU from the 11th or 10th generation with this motherboard. The only processors that work on the ASUS ROG Maximum Z690 Extreme right now are the Intel Core i9-12900K and KF, Intel Core i7-12700K and KF, and Intel Core i5-12600K and KF.
The CPU slot on the ASUS ROG Maximus Z690 Extreme
As for memory support, the ASUS ROG Maximus Z690 Extreme gives us four DDR5 DIMM slots, which can accommodate a maximum capacity of 128GB. The RAM modules you use can have a default frequency of 4800MHz, but you can also use DDR5 running at speeds higher than 6400MHz in overclock mode.
The ASUS ROG Maximus Z690 Extreme has four DIMM slots
Besides being able to use DDR5 memory, this Z690 chipset-based motherboard also offers support for other new technologies like PCIe 5.0. The processor is linked to two PCIe 5.0 x16 slots, and the Z690 chipset to one PCIe 3.0 slot. The PCIe 5.0 slots can be used in x16 or x8/x8 modes: most people will probably use only one graphics card in x16, though.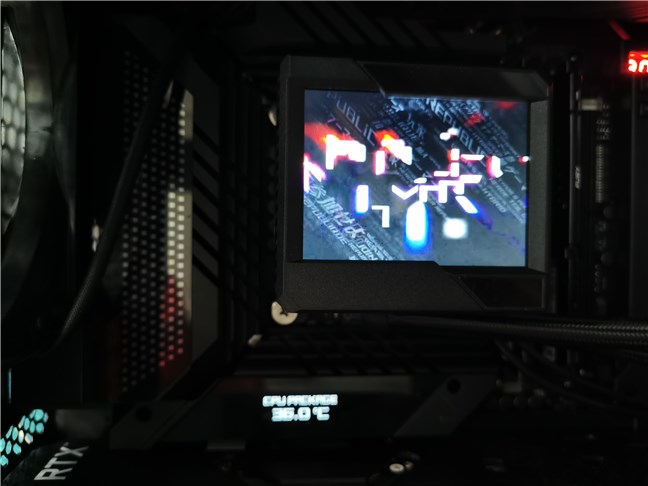 Closer view of the ASUS ROG Z690 Extreme motherboard
Then there are no less than five M.2 SSD slots: the one connected to the CPU lanes supports PCIe 5.0 x4 mode and can have any form factor (2242/2260/2280/22110) but shares its lanes with the second PCIe 5.0 slot, so if you use this M.2 slot, the secondary PCIe 5.0 slot is disabled. The second M.2 slot that's also linked to the processor lanes supports PCIe 4.0 in x4 mode. On the motherboard's Z690 chipset, the PCIe lanes allow for three M.2 slots that all work on PCIe 4.0 x4. However, two of them are available only if you attach ASUS' proprietary riser called the ROG DIMM.2, which is a sort of adapter that fits two M.2 solid-state drives and plugs into a RAM slot.
ASUS ROG Maximus Z690 Extreme uses the Z690 chipset and offers PCIe 5.0
The ASUS ROG Maximus Z690 Extreme impresses in terms of connectivity also. For wired connections, you get one Intel chip that supports speeds up to 2.5Gbps and one high-speed Marvell chip that can transfer data at up to 10Gbps! Both Ethernet ports are protected by Anti-surge LANGuard, which protects them from power spikes, keeps the signal clean, and reduces the chance of errors. For wireless, you get Intel Wi-Fi 6E which can work on the 6GHz frequency band and allows for seven extra 160MHz channels!
In terms of audio, the ASUS ROG Maximus Z690 Extreme comes with ASUS' ROG SupremeFX 7.1 Surround Sound High Definition Audio CODEC ALC4082. It supports stereo playback at up to 32-bit/384 kHz and up to 120 dB SNR (Signal-To-Noise ratio), 113 dB SNR recording input. Furthermore, you also get an external ROG Clavis (ESS SABRE9018Q2C) DAC that you can plug into a USB-C port and connect your headphones to it for an audiophile-grade listening experience.
The input/output panel on the ASUS ROG Maximus Z690 Extreme
Besides network and audio ports, on the I/O panel, you also get an HDMI port, a Thunderbolt 4 USB Type-C port, a USB 3.2 Gen 2x2 Type-C port, seven USB 3.2 Gen 2 Type-A ports, and one USB 3.2 Gen 2 Type-C port. If you ever need them, there's also a BIOS FlashBack and a Clear CMOS button.
In terms of fans and cooling, the motherboard includes many connectors: one 4-pin CPU Fan header, one 4-pin CPU OPT fan header, two 4-pin Chassis Fan headers, two 4-pin Radiator Fan headers, two W_PUMP+ headers, one WB_SENSOR header, one 2-pin Water In header, one 2-pin Water Out header, and one 3-pin Water Flow header. Additional USB headers are also available if you want to connect them to your PC case: one Intel Thunderbolt 4 port (USB Type-C), one USB 3.2 Gen 2x2 connector (which also supports USB Type-C), two USB 3.2 Gen 1 headers (that support up to four USB 3.2 Gen 1 ports), and two USB 2.0 headers (for another four USB 2.0 ports).
Bottom view of the ASUS ROG Maximus Z690 Extreme
If you like RGB, know that the ASUS ROG Maximus Z690 Extreme supports ASUS Aura and, besides the built-in LED lights on the motherboard, you also get a 6-pin ARGB Gen 2 header that can split the signal into two ARGB (Addressable RGB) Gen 2 headers, one addressable Gen 2 header, and one AURA RGB header.
ASUS ROG Maximus Z690 Extreme mounted in our test computer
In the end, the built-in features, options, ports, and other technicalities of this motherboard are so many that it would probably take another two pages to enumerate all. So, although we'll stop for now, if you want even more details, specs, and additional information, do visit the official webpage: ASUS ROG Maximus Z690 Extreme Tech Specs.
The ASUS ROG Maximus Z690 Extreme motherboard is simply outstanding. The high-end components and the premium build are nothing short of incredible, not to mention how good it looks.
Check the next page of this review to find out what the ASUS ROG Maximus Z690 Extreme motherboard can do in benchmarks using an Intel Core i7-12700K processor and see how it compares to another Z690 mainboard, namely the Gigabyte Z690 Aorus Pro.