If you have a large home that requires regular cleaning, affordable robot vacuums are usually a poor choice due to multiple reasons. They tend to have batteries with lower capacity, less advanced navigation systems which make them slow at cleaning your home, and dust bins with lower capacity. That's why, for larger homes, it is a better idea to look for a more powerful robot vacuum, even if it's probably more expensive. If you're on the lookout for a high-performance robot vacuum that can handle a larger living space, here's why Xiaomi Robot Vacuum X10 may be a good choice:
Xiaomi Robot Vacuum X10: Who is it good for?
Xiaomi Robot Vacuum X10 is a good choice if:
You have a large apartment or multi-level house
You want a vacuum that can be controlled remotely and synced with other smart devices
Your space requires regular mopping
You don't have many carpets
Pros and cons
These are the things I like about the Xiaomi Robot Vacuum X10:
The dust collection dock increases your comfort
Excellent suction power in Turbo mode
It handles obstacles very well
It can vacuum and mop at the same time
The mopping feature is useful for cleaning lighter stains
The level of control provided by the Mi Home app is excellent
There are some downsides as well:
The charging speed is very slow
Firmware updates come without release notes
Verdict
Xiaomi Robot Vacuum X10 has a reasonable price for its features, it's well-designed and good-looking. But most of all, it does a good job of cleaning living spaces; it doesn't need regular cleaning, and it can store the dust and dirt collected by up to sixty cleaning runs. While not great, the mopping feature can be helpful, especially in homes without many carpets. The Mi Home app is excellent, with plenty of advanced features that are easy to set up. Families will appreciate the Child lock and sharing the device between multiple users, who can all manage it remotely. I'm happy with my experience reviewing the Xiaomi Robot Vacuum X10 and recommend it to people needing to clean larger living spaces.
Unboxing the Xiaomi Robot Vacuum X10
The Xiaomi Robot Vacuum X10 comes in a large and heavy cardboard box, which uses white and gray as its main colors. On the front, you see the product name, a large picture of the robot vacuum, the Mi logo, and a list of the device's most important features. The sides of the box reveal more information about the product you just bought and its many features.
Xiaomi Robot Vacuum X10 comes in a large and heavy box
When you open the box, you find other smaller cardboard boxes which protect all the items that make up the Xiaomi Robot Vacuum X10. Take everything out carefully, and you should have these three items:
All the items are found inside further protective packaging
When you finally get to unpacking everything, you find the robot vacuum itself, its dust collection dock (with a dust bag already installed), the side brush, a second dust bag, the mop pad, the power cable for the dock, the user manual, and other leaflets. Remember that the main brush and brush cover are installed on the Xiaomi Robot Vacuum X10, and so is the dustbin.
All the items that you're going to find
The unboxing experience for the Xiaomi Robot Vacuum X10 takes a bit of time and is quite pleasing. The company bundles several accessories and all the information you need to get started.
Design and hardware specifications
The design of the Xiaomi Robot Vacuum X10 is similar to that of other devices in its price range: it's white, it has a round shape and a size of 353 × 350 × 98.8 mm or 13.89 x 13.77 x 3.88 inches. It weighs 3.3 kilograms or 7.27 pounds. On the top, you see the dome for its LDS laser navigation system, two buttons (Power and Home), and the Xiaomi logo.
Xiaomi Robot Vacuum X10 has a classic design
On the front, you have the hole that hosts the docking sensor and the bumper, which protects the robot vacuum.
The docking sensor is on the front
Turn it upside down, and you see the cliff sensors, charging contacts, and the top wheel. Next, you have the removable side brush, the main wheels, and the main brush, protected by its cover. There's also the vent with two holes, which are used to empty the dustbin into the dust collection dock.
Turning the Xiaomi Robot Vacuum X10 upside down
The dust collection dock or the auto-empty station is quite big: 397 × 285 × 384 mm or 15.6 x 11.2 x 15.1 inches in size. It's all white and made of plastic. According to Xiaomi, it has a capacity of 2.5 liters and can store dust resulting from up to 60 cleaning runs. The company says that it has improved its dust collection process and that the base has a suction power of 17000 Pascals, allowing it to instantly empty the robot vacuum's dustbin.
The auto-empty station is BIG
Xiaomi Robot Vacuum X10 has a high-speed brushless motor with a maximum suction power of 4000 Pascals. It has a built-in 5200 mAh battery that helps it clean for approximately 180 minutes in standard mode, and its navigation system makes it capable of crossing obstacles up to 20 mm in height. All these specifications combined should make it a good choice for large homes.
Xiaomi Robot Vacuum X10 can clean for up to 180 minutes
The robot vacuum also has a 200 ml water tank that allows for around 80 minutes of mopping. The water tank evenly distributes the water without leakage and supports three levels of water flow control.
The water tank with the mop attached
This vacuum cleaner comes with TÜV Rheinland Cybersecurity and Privacy Protection Standard Certification. This means that the map created by Xiaomi Robot Vacuum X10 is encrypted when transmitted to the cloud through the Mi Home app. The robot vacuum also includes a security chip that handles user data encryption and secure transmission. And on top of that, the Mi Home app has been hardened from a security perspective.
Your map is encrypted
Lastly, Xiaomi Robot Vacuum X10 works with Amazon Alexa or Google Assistant. It is also integrated with Google Home and Xiaomi's ecosystem of smart devices.
For more specs and technical information, visit the product's official page: Xiaomi Robot Vacuum X10.
Xiaomi Robot Vacuum X10 is a high-end robot vacuum with a price tag and specifications to match. Its design is functional, and the feature set is generous. Some people may appreciate its ability to mop and consider it more appealing than competing products with a similar price.
Using the Xiaomi Robot Vacuum X10
Decide on a spot for the dust collection dock, plug it into the power outlet, and attach the vacuum robot. Next, install the Mi Home app from the Play Store or the AppStore, sign in with your Xiaomi account, and add the robot vacuum. If your phone is close to it, the app detects the device immediately.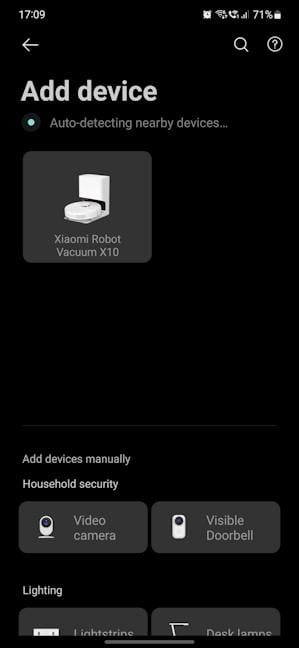 Adding the Xiaomi Robot Vacuum X10
After you select the device, choose the Wi-Fi network you want to connect it to (it works only with networks on the 2.4 GHz band, using Wi-Fi 4, not Wi-Fi 6). Then, set its location and the device name and choose whether you want to share it with your family and manage the robot vacuum together.
You can share the robot vaccum with your family
Agree with the privacy policy, watch the guide for how to use the Xiaomi Robot Vacuum X10, and you can start using it. The first step is to charge it and then make a first run to map your home. This run is quick because the robot vacuum doesn't do any cleaning. It only scans your home to create the map and understand where the main obstacles are.
First, create and edit the map
It is a good idea to edit your map, rename the rooms, set virtual walls and mop-restricted areas. Then, when you start using the Xiaomi Robot Vacuum X10 to clean your home, everything will run smoothly, and it won't clean or mop places you don't want it to.
Add virtual walls, restricted areas, etc
The Mi Home app has many settings and features: you can choose the cleaning type, the vacuuming strength, water usage for mopping, and change the order in which rooms are cleaned. You can also schedule cleaning tasks for your entire home or only some rooms, modify the volume of the voice notifications or mute them altogether, issue commands like "return to charging station," "start /pause/stop cleaning," or "clean area," and configure the settings for each room individually. The dust collection dock, which also acts as a docking station, can be set to collect the dust automatically after each run; you can change the frequency with which it does that or run it on demand. Families will enjoy having a Child lock to prevent their children from accidentally turning the robot vacuum on.
Mi Home has many features and settings
Xiaomi Robot Vacuum X10 does a good job of collecting the dust and dirt on your floors. However, if you need it to clean carpets or collect long hair, you should set its strength to Strong or Turbo. The downside is that it becomes quite noisy. The mopping feature works, but it's more like a wet wipe after vacuuming dirt than a real mop. While it helps clean your floors better, don't expect it to be as good as proper mopping. For example, the Xiaomi Robot Vacuum X10 didn't remove the more difficult stains in my kitchen. I had to take out a real mop and clean them myself.
Xiaomi Robot Vacuum X10 cleaning my floor
Xiaomi Robot Vacuum X10 does a great job of detecting and avoiding obstacles, as it has one of the best navigation systems I've seen on vacuuming robots. The only downside is that the LIDAR dome doesn't allow it to fit into places that less advanced robots, like the affordable Xiaomi Robot Vacuum E10, can get into. However, its cleaning speed is awesome: in one minute, it cleans 1.17 square meters or 12.59 square feet.
Xiaomi Robot Vacuum X10 does a great job of detecting obstacles
This robot vacuum doesn't generate a lot of noise when used in Silent and Standard modes. However, increasing the suction power to Strong or Turbo makes the robot get loud. The dust collection dock, while fast in removing the dirt from inside the robot vacuum, is even louder. Unfortunately, Xiaomi didn't publish any official measurements about the noise generated, and I didn't have a measurement device either. However, I did make the clip below, so you can hear how noisy the Xiaomi Robot Vacuum X10 is in each cleaning mode and how loud the dust collection dock is.
After each run, Xiaomi Robot Vacuum X10 returns to its dock and charges automatically. Unfortunately, the charging speed is quite slow. If its battery is close to 0%, it goes to 100% in about six hours. Fortunately, most homes are not large enough to drain its battery completely on a single cleaning run. In most cases, 3 to 4 hours of charging time after each cleaning should be enough. However, I wish Xiaomi used its smartphone fast charging technology on its robot vacuums too. It can be quite frustrating to wait for so many hours.
Xiaomi Robot Vacuum X10 charges very slowly
Taking the garbage out of the dust collection dock is easy. And what's great about it is that you have to do it once every sixty cleaning runs. Therefore, you can use it for months before having to clean it. A second dust bag is included in the box, and that is great. However, after a couple of months of use, you may need to purchase additional ones from Xiaomi's store.
Taking the garbage out is easy
The consumables are always something to keep in mind when using a robot vacuum. The Mi Home app tells you their usage level and when you need to clean or replace them. Unfortunately, Xiaomi bundled a single side brush, which needs to be replaced after 200 hours of use. Other vendors bundle two side brushes on similarly priced devices.
Keep an eye on the consumables
In the days I've used this robot vacuum, I noticed that Xiaomi's firmware updates do not have any release notes. Also, you can't find any information online about the changes they bring. This lack of transparency is problematic, and Xiaomi should share what each new firmware release does.
On the upside, the Mi Home app allows you to create all kinds of smart automation. For example, you can create complex scenarios (or Scenes) using simple If/Then rules and the myriad of smart devices compatible with the app. For example, you can sync the Xiaomi Smart Air Purifier 4 to start right after the Xiaomi Robot Vacuum X10 finishes vacuuming to find a clean home AND clean air when you return from work. If you have allergies, this kind of automation is extremely helpful. The Mi Home app can also connect to Google Home and Amazon Alexa, allowing you to join the vacuum cleaner with many other smart devices, including ones from different vendors.
You have many automation options available
Xiaomi Robot Vacuum X10 is a reliable robot vacuum cleaner. It navigates obstacles with precision, it has good suction power, and the mopping feature can be useful at times. However, it's probably not the best idea to use the mop pad, if you have many carpets in your house. On the upside, its excellent battery life and dust collection dock make it ideal for large homes.
What do you think of the Xiaomi Robot Vacuum X10?
At the end of this review, you should have a good perspective of what this vacuum robot can and can't do. If there are any questions left unanswered, don't hesitate to share them in a comment. And, if you already own one of these robot vacuums and use it regularly, share your experience with others.