Robot vacuum cleaners are popular, and for a good reason: they help us automate a task that a lot of people dread doing regularly. Many such devices are advanced and incredibly efficient, but they're expensive, and not everyone can afford them. If you're looking for a budget-friendly solution, Xiaomi has you covered. For about 200 USD, Xiaomi Robot Vacuum E10 can vacuum and mop your home without you. Does it sound appealing? Well, read this review to find out what this robot vacuum cleaner can do for you:
Xiaomi Robot Vacuum E10: Who is it good for?
Xiaomi Robot Vacuum E10 is a good choice if:
You need to clean and mop a small apartment or office space
You want a budget-friendly robot vacuum cleaner
You want a vacuum that can be controlled remotely and synced with other smart devices
You don't have pets, children, or many obstacles
Pros and cons
These are the things I like about the Xiaomi Robot Vacuum E10:
Very affordable
The accompanying Mi Home app is easy to use and understand
Excellent suction power in Turbo mode
The robot can vacuum and mop at the same time
It can clean places that are hard to reach for more advanced robot vacuums
There are important downsides to consider as well:
Slow cleaning speed because it lacks a LIDAR navigation system
The dustbin is small and needs to be emptied frequently
The autonomy and charging speeds could be better
Verdict
Xiaomi Robot Vacuum E10 shines through its very attractive price, which is affordable to many households. However, it lacks an advanced laser-based navigation system, so it's slower at cleaning your home, not great at dealing with obstacles, and can't clean large living spaces in one run. On the upside, Xiaomi Robot Vacuum E10 is efficient at cleaning and mopping your home, especially if you schedule regular cleaning runs while you're away. Controlling it is easy, and the Mi Home app helps it integrate well into Xiaomi's smart ecosystem. If you need to clean a small apartment or office space, Xiaomi Robot Vacuum E10 is a good choice that's easy on your wallet.
Unboxing the Xiaomi Robot Vacuum E10
The Xiaomi Robot Vacuum E10 comes in a sizeable cardboard box, which uses white and gray as its main colors. On the front, you see the product name, a large picture of the robot vacuum you just bought, and the Mi logo.
Xiaomi Robot Vacuum E10 comes in a large cardboard box
On the sides of the box, you see other pictures of the robot vacuum and its most important features. When you start unpacking everything, you find the following items inside their protective packaging: the robot vacuum cleaner with its main brush, 2-in-1 water tank, and dust container preinstalled. The mop pad is preinstalled on the mop frame. Alongside all of that, the box also includes a side brush and brush cover, the power adapter, the charging dock, the user manual, warranty details, and other leaflets.
Everything you find inside the box
The unboxing experience for Xiaomi Robot Vacuum E10 is straightforward. The packaging is basic and does a decent job of protecting its contents. When you take everything out, you find all the items and information required to set up and start using the robot vacuum immediately.
Design and hardware specifications
Xiaomi Robot Vacuum E10 looks similar to other devices in its class: it's white and round, with a size of 12.79 x 3.14 inches or 325 x 80 mm in diameter and height, and weighs around 7.05 lbs or 3.2 kg. Unlike the more expensive robot vacuums, this one doesn't have a LIDAR dome on top. This is because it lacks a laser distance sensor for precise positioning. Instead, Xiaomi Robot Vacuum E10 relies on the following sensors: a gyroscope, an infrared obstacle sensor, a wall sensor, a recharge receiving sensor, and a cliff sensor. On the top, there are two buttons which, depending on how they are pressed, can be used to turn the robot vacuum On and Off, reset its Wi-Fi, or send it back home to its charging station.
Xiaomi Robot Vacuum E10 isn't as tall as other robot vacuums
The buttons can light up in different patterns and colors, indicating the robot's actions, like charging, returning to the docking station, encountering an error in its functioning, upgrading the firmware, or getting disconnected from Wi-Fi.
When you turn the Xiaomi Robot Vacuum E10 upside down, you see the cliff sensors, charging contacts, and the top wheel. Next, you have the removable side brush, the main wheels, and the main brush, protected by its cover. The dust compartment is made from transparent plastic. It can also act as a water tank for the mopping function.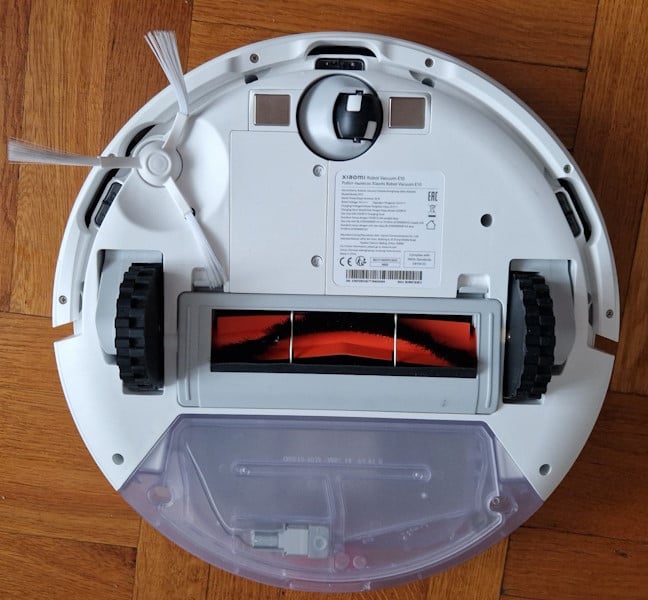 Here's how it looks when you turn it upside down
It's easy to take out the dust compartment, revealing the system through which the dust is collected.
Taking out the dust compartiment is easy
The 2-in-1 dust compartment has a hole for the water tank on its side, and it also includes a brush you can use to keep the robot clean.
The 2-in-1 dust compartment is also a water tank
The mop holder with the attached cleaning pad should be inserted in its dedicated slots on the bottom of the 2-in-1 dust compartment. You'll be happy to find out that the mop pad can be easily removed, washed when required, and placed back with little effort.
This is the mop pad
The dock is 5.75 x 4.8 x 3.44 inches or 146 x 122 x 87.5mm in size. It charges the battery of the Xiaomi Robot Vacuum E10, which has a capacity of 2600 mAh. While the battery capacity is not exactly generous, Xiaomi claims that this robot vacuum can offer up to 110 minutes of cleaning using the standard vacuum and mop mode.
The charging dock
Xiaomi Robot Vacuum E10 has a suction power of 4000 Pascals, which is quite a lot for an entry-level model. However, this suction power is reached only when using Turbo mode, and the downside is a much higher energy consumption than in the Standard mode. For more specs and technical information, visit the product's official page: Xiaomi Robot Vacuum E10.
Xiaomi Robot Vacuum E10 is an entry-level vacuum cleaner with a price and specifications to match. If you're a pretentious user or need to clean a large home, you may be disappointed by the lack of a laser navigation system and its lower battery capacity.
Using the Xiaomi Robot Vacuum E10
Unless you've used a robot vacuum before, it's a great idea to read the user manual and see how to mount all its accessories correctly, set them up, and maintain them in good condition. Then, decide on the spot you want for the docking station: ideally, it should be in an area children and pets can't easily access. Then, install the Mi Home app from the Play Store (if you have an Android device) or the AppStore (if you have an iPhone or iPad). Open the app, create a Xiaomi account (if you don't already have one), and add the robot vacuum cleaner. Wait until the Xiaomi Robot Vacuum E10 is detected, connect it to the Wi-Fi, set the room it's placed in, and its name. This vacuum cleaner can only connect to 2.4 GHz wireless networks.
Connecting Xiaomi Robot Vacuum E10 to the Wi-Fi
After configuring the basics, the Mi Home app asks you to accept the user agreement and privacy policy. It displays a Cleaning guide with useful recommendations on placing and using the vacuum cleaner. Pay attention to these recommendations because this specific robot vacuum cleaner doesn't have as many sensors as more expensive ones, and following this advice will allow you to have a positive user experience.
Read the cleaning guide
You can start using the app and the Xiaomi Robot Vacuum E10 when everything is set. You'll quickly notice that you need a map of your home. However, there's no option to create a map, like for the Xiaomi Robot Vacuum S10 and other more expensive models with a LIDAR navigation system.
Xiaomi Robot Vacuum E10 can't create a permanent map
Because the Xiaomi Robot Vacuum E10 has a more limited set of sensors, this robot has to recreate the map of your home each time you use it. This means that it takes twice as long to clean up your home than with other more expensive models equipped with an advanced navigation system. It also means that you can't store a map in the Mi Home app, and that you can't create no-go zones for this robot vacuum cleaner. It will always try to clean the entirety of your home. If you don't want it to go to a specific room, you must close its door or block its access by placing some unpassable obstacles.
This robot creates a new map each time you use it
Another downside of this robot's limited sensor system is that it has more difficulties finding its way around obstacles and dealing with cables or human interventions during its use. In the days I've used it, I noticed it got stuck a bit more frequently than more expensive robot vacuums, and it required my intervention.
Xiaomi Robot Vacuum E10 navigating around obstacles
On the upside, because it has a basic sensor and navigation system, it lacks the LIDAR dome found on the top of many other robot vacuums. As a result, its height is smaller than other models, and it can clean places in your homes which are difficult to reach. For example, I was happy to see it clean under my kitchen cabinets. 🙂
Xiaomi Robot Vacuum E10 can go into places other robot vacuums can't reach
Because the dust compartment is 2-in-1 and acts as a water tank, too, its collection capacity is limited, and it fills up quickly after one or a maximum of two runs. So you need to clean it often.
The 2-in-1 dust compartment has a small capacity
The compartment can't hold too much water either, but the robot vacuum doesn't waste much of it, which is great. However, you should set the Water level to High for the best mopping results. And, while it does help clean your floor better, don't expect it to be as good as a proper mopping. On the upside, Xiaomi Robot Vacuum E10 does a good job cleaning your home, especially when you increase its suction power to Medium or Turbo.
Setting the suction power and water level is easy
However, when using this cleaning mode, the battery drains much faster, and the noise it generates increases significantly. It may bother you or scare your pets. Check the video below to hear how noisy the Xiaomi Robot Vacuum E10 is in each cleaning mode.
While I was satisfied with how well this robot vacuum-cleaned my home, I was frustrated by its slowness. Its rather basic sensor system makes it much less efficient in its path-taking and cleaning algorithms. Because of that, the Xiaomi Robot Vacuum E10 needs about 2 minutes for each square meter or 10.7 feet, which is twice as slow as mid-range robot vacuums.
Xiaomi Robot Vacuum E10 has a slow cleaning speed
The limited battery capacity of the Xiaomi Robot Vacuum E10 allows it to run up to 110 minutes of cleaning using the standard vacuum & mop mode. However, if you set it to Turbo mode and increase the Water level to High, expect it to run only half as much. This limitation, together with the inability of creating maps and asking the robot to clean specific places, doesn't make the Xiaomi Robot Vacuum E10 a good choice for large apartments and homes. Another downside is that this robot vacuum charges from 0% to 100% in about 330 minutes, which is A LOT.
Xiaomi Robot Vacuum E10 is slow to charge
On the software side, I noticed that Xiaomi's firmware updates do not have any release notes, and you don't know what they improve. Also, you can't find any information online about the changes they introduce. This lack of transparency is problematic, and the company should communicate what each new firmware release does.
Firmware updates have no release notes
On the upside, the Mi Home app allows you to automate how the Xiaomi Robot Vacuum E10 works. With it, you can create scenarios (or Scenes) using simple If/Then rules and the myriad of smart devices compatible with the app. For example, you can sync the Xiaomi Smart Air Purifier 4 to start right after the Xiaomi Robot Vacuum E10 finishes vacuuming to find a clean home and air when you return from work. If you have allergies, this kind of automation can be a godsend.
Creating automation is easy
Using the Mi Home app is generally easy. The app can do what you expect: start a cleaning run, configure how it works, create a cleaning schedule, access your cleaning history, check the real-time status of the robot vacuum, update its firmware, etc. One important area that you should visit regularly is the Consumables statistics. Here, you see how used each accessory is, as well as when you need to clean or replace it.
Check the Consumables statistics regularly
My testing experience revealed that the Xiaomi Robot Vacuum E10 is a good fit only for small apartments and offices, without many obstacles, pets, or children that could randomly interfere with it. The Mi Home app accompanying it is simple and easy to use while providing most of the features you would expect. You can use it to control the robot vacuum and check its status even while you're away.
What do you think of the Xiaomi Robot Vacuum E10?
As you have seen in this review, Xiaomi Robot Vacuum E10 is a capable device with an affordable price but also with some important limitations. Before closing this tab, tell me your opinion: Do you consider it a good choice for you and your home? Do you intend to buy it or prefer a more advanced (and expensive) model? Let me know in the comments using the options available below.