What would life be without games? A boring experience if you ask us. ? As many of our readers own and use iPhones and iPads, and some of us here at Digital Citizen also do, we thought it would be a good idea to share with you some of our favorite free games for iOS and iPadOS. Puzzle games, RPGs, multiplayer or single-player games… The App Store has so many fun games that it's tough to compile a list of just a few, but here are the ones we like the most. A word of warning: some of these iPhone games are very addictive!
1. Best puzzle game for iPhone and iPad: Two Dots
We begin our list with a simple game with lovely graphics and satisfying gameplay from Playdots, Inc. In order to progress in Two Dots, you need to connect color-matching dots and solve fun puzzles through beautiful worlds. The game is free, but contains some (highly optional) in-game purchases. You can enjoy this relaxing puzzle game for hours or just complete a quick level on your way to work.
Relax with Two Dots
Download: Two Dots on the App Store
2. Best Battle Royale game for iPhone and iPad: PUBG Mobile
PUBG or PlayerUnkown's BattleGrounds is the original battle royale game, and it is also available on iPadOS and iOS devices. In PUBG, you spawn on an isolated island together with some 100 players, and you're all fighting for survival. You have to find and use weapons, ammunition, armor, vehicles, and other types of supplies, then kill everyone else, before the battle zone shrinks and kills you or the other players do. PUBG Mobile is free to play, but it also includes in-game purchases.
If you master the controls, you're in for hours upon hours of fun in PUBG Mobile
Download: PUBG Mobile on the App Store
3. Best racing game for iPhone and iPad: Asphalt 9: Legends
Asphalt 9: Legends is one of the most popular car racing games for Windows and Android, and it is also available in Apple's App Store. It features over 70 tracks from all over the world, on which you can race using various hypercars from manufacturers such as Ferrari, Porsche, or Lamborghini.
The visuals are stunningly beautiful, with HDR and particle effects, and the performance is excellent even on lower-specced iPhones - our iPhone SE manages to run this game flawlessly. Asphalt 9: Legends is free-to-play but offers in-game microtransactions also. Still, you can play without spending any real money if you do not want to.
Asphalt 9: Legends looks stunning
Download: Asphalt 9: Legends on the App Store
4. Best co-op game for iPhone and iPad: Among Us!
Among Us! is one of the most viral games ever launched. It is an online co-op game where you play with another 4-15 human players as you attempt to prep your spaceship for departure. The twist is that one or more random players among the crew are so-called "impostors," and they try to sabotage your efforts. In order to win as a regular crewmember, you need to repair the ship or identify the impostor(s). The impostor wins if the ship is not repaired or if they kill the crew.
The impostors are Among Us
Download: Among Us! on the App Store
5. Best platform game for iPhone and iPad: Ninja Arashi
Ninja Arashi is a platformer with RPG elements. You play as a ninja who fights his way to save his kidnapped son. It features impressive acrobatics and deadly weapons, menacing traps, and a wide variety of enemies. You can upgrade your abilities using gold and diamond collected from enemies and the environment.
Ninja Arashi has some hauntingly beautiful scenery
Download: Ninja Arashi on the App Store
6. Best single-player fighting game for iPhone and iPad: Shadow Fight 3
We continue with yet another good-looking ninja action game from Nekki Limited that features fast-paced one-on-one fights with AI-controlled enemies. Featuring three fighting styles, each with its combos and gear sets, Shadow Fight 3 takes you on a journey through mystical realms, where you get to fight fully computer-generated warriors, as well as other players' heroes, controlled by AI. You need good reflexes, good gear, and a lot of patience if you want to progress, as some fights can be insanely difficult if you don't have the right gear and level.
Shadow Fight 3 gameplay
Download: ShadowFight 3 on the App Store
TIP: If you want to take the fight to another level, you can download what we think is the best PvP fighting game for iPhone and iPad: Shadow Fight: Arena, from the same developer. It's set in the same universe, with the same amazing graphics, but with a full PvP experience.
7. Best tower defense game for iPhone and iPad: Clash Royale
If you enjoy tower defense and card deck-building games, you will love Clash Royale. Collect and upgrade more than 100 cards featuring troops, spells, and defenses, win battles, and progress to new Arenas. You can play with your friends in co-op games for double the fun. This free PvP-centered tower defense game is suitable for ages over 13 years old and features in-app purchases.
Clash Royale is a mix of League of Legends and Hearthstone
Download: Clash Royale on the App Store
8. Best arcade game for iPhone and iPad: Subway Surfers
This colorful arcade game has a massive number of players, and for good reason: it features colorful graphics and a very addictive game mechanic. Your character glides, runs, or surfs on top of trains, collecting coins and upgrades. If you're competitive, you can challenge your friends on the same levels that you complete. Compatibility is great, too: the game can be played even on an iPhone 4s!
Subway Surfers gameplay
Download: Subway Surfers on the App Store
9. Best RPG game for iPhone and iPad: RAID: Shadow Legends
We've played RAID: Shadow Legends for many, many hours, and it's one of our favorites on this list. The game is set in the world of Teleria, where you recruit its most legendary warriors and train them to fight together and assemble the greatest party ever seen. As you create your team of heroes, you take on increasingly difficult foes in a turn-based system that takes into account your heroes' stats.
This game takes upgrading heroes... to the next level
Download: RAID: Shadow Legends on the App Store
10. Best resource management game for iPhone and iPad: Fallout Shelter
Fallout Shelter should need no introduction by now. Launched in 2015 on all major platforms, including iOS, iPadOS, Windows, and Android, the game is based on the post-apocalyptic world of Fallout games. Fallout Shelter is a simulation game in which the player runs an underground shelter, or a "vault," as the overseer. Your job is to create the best living and training conditions for your residents, including the production and distribution of power, food, and water. To advance through the simulation, you will need to increase the size of the vault by adding and upgrading rooms, each with their own function, and then accepting dwellers from the outside to populate the rooms. The dwellers will then level up and provide various perks to your vault.
Surviving the aftermath of an apocalypse is not easy
Download: Fallout Shelter on the App Store
11. Best cards/deck-building game for iPhone and iPad: Hearthstone
Undoubtedly the best card building game on any platform, not just on iOS and iPadOS, Hearthstone is a free-to-play collectible card game developed and published by Blizzard Entertainment. Based on the lore of the Warcraft games, Hearthstone is a turn-based card game between two opponents, using decks of 30 cards and a selected hero with a unique power. Players use abilities or summon minions to attack the opponent, with the goal of destroying the opponent's hero. It's a fun and highly addictive game that rewards players who focus on synergies rather than all-out powerful cards.
No other deck-building game has come close to Hearthstone in terms of popularity
Download: Hearthstone on the App Store
12. Best adventure game for iPhone and iPad: Plants vs. Zombies 2
Plants vs. Zombies is safely part of the "oldies, but goldies" category. The game franchise, developed by PopCap Games, started back in 2009. Now, with over 200 million downloads, it's one of the most popular adventure games ever released. The premise is simple: you position plants that shoot various projectiles on a lawn that is being invaded by zombies. You have several lanes, each one with limited space, and you can place the plants based on your sunlight production (some plants produce this currency). The story involves time travel, your friendly next-door neighbor, and lots of funny characters. There are hundreds of levels available, and the graphics are colorful and detailed.
We could play Plants vs. Zombies 2 for days
Download: Plants vs. Zombies 2 on the App Store
13. Best casual game for iPhone and iPad: Angry Birds 2
No "best of" list is complete without Angry Birds. If you're not familiar with it, the game puts you in control of a slingshot loaded with different types of (angry) birds, trying to destroy funny-looking pigs. The second installment of the popular games introduced an energy system and a deck-building component (playing cards "loads" the slingshot with different birds). If you want casual gaming, this is it!
Angry Birds 2 gameplay
Download: Angry Birds 2 on the App Store
14. Best sports game for iPhone and iPad: HeadBall 2
Well, it's not exactly an Olympic sport, but HeadBall is really fun, nevertheless. The game concept has been around for a long time: you are a jumping, kicking, and emoting head, and you must use your skill to push the ball into the opponent's goal post. Whoever scores the most goals in the allotted time wins. It sounds simple, but you get to play against some very skillful human players. Give it a try!
Soccer fans will love HeadBall 2
Download: HeadBall 2 on the App Store
15. Best rhythm game for iPhone and iPad: Beatstar
Since we're on the subject of good reflexes, there is nothing better to test them than a good rhythm game. Tap your way through the greatest hits of the last five decades, earn points, unlock new songs, and hit those combos just right for a satisfying experience. The audio quality is really good, and the songs cover various genres, from rock to pop and EDM.
Beatstar gameplay
Download: Beatstar on the App Store
16. Best time-management game for iPhone and iPad: Delicious World
Delicious World is a time management game, part of the 15-year old Delicious series of cooking games. In it, you take the role of Emily and travel the world, helping various restaurants by cooking all types of delicious dishes and serving them to insatiable customers. All while trying to find your true love in this Delicious story. There are hundreds of levels, many challenges, and a lot of fun to be had. The game includes optional purchases to speed up your progress.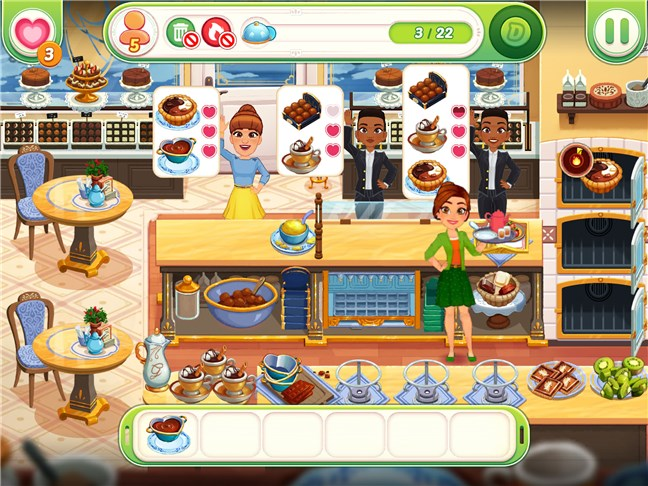 Travel the Delicious World
Download: Delicious World on the App Store
What are your favorite free games for iOS and iPadOS?
There you have it, our list of sixteen games that we enjoy the most on our iPhones and iPads. We're always looking to expand our library, so please, let us know what your favorite games are. Are any of them on our list? Is there some amazing game that we should definitely try? Leave a comment below and let's discuss.