ASUS recently launched a new portable projector called the ZenBeam L2. Following in the footsteps of the ZenBeam Latte L1, the ZenBeam L2 offers a sleek design and promises high-quality images, rich connectivity, and reasonably long autonomy thanks to its built-in battery. Furthermore, the ZenBeam L2 also bundles an Android TV box to let you enjoy your favorite streaming apps without any hassle. In other words, with this projector, you shouldn't need anything else to turn your living room or even your backyard into a cinema-like space. Would you like to know more about it? Then read this review:
ASUS ZenBeam L2: Who is it good for?
This projector is an excellent choice for people who want:
To enjoy watching movies and shows on any surface, brightly and clearly
Easy access to all their favorite streaming apps
To be able to use their projector on the go, anywhere, even outdoors
Pros and cons
There are many good things to say about the ASUS ZenBeam L2:
The projection is bright and clear, with vivid colors
Its LED light source lasts longer and works better than regular projector lamps
No need to adjust the focus or the angle manually
Excellent 1080p native resolution for a device this size, and support for 4K input
Bundled Android TV box with Wi-Fi 5 and Bluetooth compatibility
Built-in speaker
Sleek design and excellent build quality
Its price is reasonable for what it offers
As for the downsides, there's only one:
The built-in speaker's volume is rather low, so I recommend using a separate wired or Bluetooth portable speaker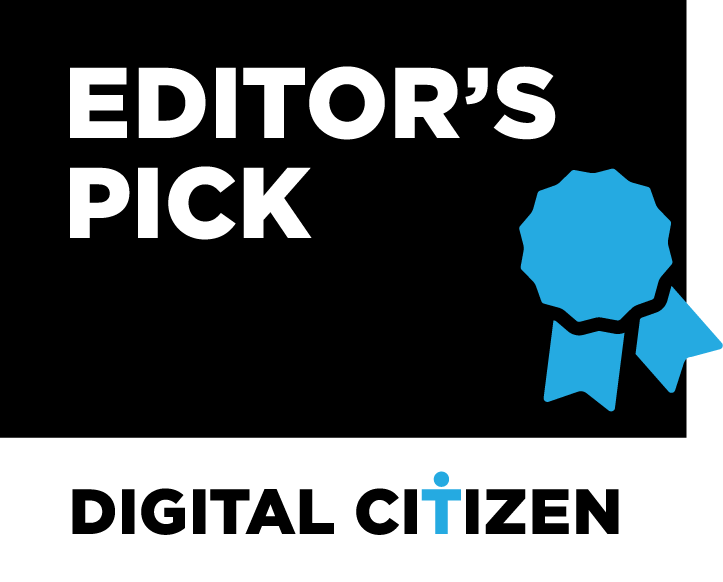 Verdict
The ASUS Zenbeam L2 projector is a great choice for anyone looking for a portable and versatile device that can project high-quality images and videos on any surface. It has a sleek and compact design, a built-in battery that can last for a whole movie, a generous range of connectivity options, and even an Android TV box. I find this projector to be a great gadget for entertainment, managing to combine performance and portability in one package at a relatively reasonable price compared to the competition. If you love big-screen experiences and would like to enjoy them anywhere you go, you can't go wrong with the ASUS ZenBeam L2 projector. Because the ASUS ZenBeam L2 has everything you need to immerse yourself and the ones close to you in the stories you love.
Unboxing the ASUS ZenBeam L2 projector
The white sturdy cardboard box that holds the ASUS ZenBeam L2 is quite large for a portable projector. With a handle at the top and a logo on the front but an otherwise minimalist approach, the box only tells you initially the name of the device and the fact that the projector is portable and features a high-quality sound system from Harman Kardon. The back of the box, however, also showcases some other useful details about the main features and specs of the projector.
The box of the ASUS ZenBeam L2 projector
When I opened the box, I discovered a treasure trove of items: the ASUS ZenBeam L2 projector inside a good-looking carrying bag for transporting it, another box that contained a HAKO mini Android TV, a USB-C power adapter with two cables (one with a plug for EU and one for Britain), a user manual, and the warranty leaflet.
Unboxing the ASUS ZenBeam L2 projector
Then, after taking everything out, I discovered the sleek projector and that the tiny HAKO mini box also includes a remote control.
Everything you get with the ASUS ZenBeam L2 projector
As I opened the package of the ZenBeam L2 projector from ASUS, I felt a surge of excitement. The box looks nice, true, but what's inside is even better. I was impressed by the accessories that came with the projector, like the remote control, the USB-C power adapter, and the carrying case. As you can imagine, I couldn't wait to try it out and see how the ZenBeam L2 performs.
Design and hardware specifications
The ASUS ZenBeam L2 is a new and improved version of the L1 compact projector, with a sleeker and smoother design. Its metal casing is covered with small holes that help keep the device cool, and it comes in a stylish combination of gray and black. The projector is also easy to carry around, as it measures 132 x 172 x 132 mm (5.20 x 6.77 x 5.20 in) and weighs only 1.57 kg (55.38 ounces).
The ASUS ZenBeam L2 projector
The top side of the ASUS ZenBeam L2 is covered by a plastic cover that's detachable but fits perfectly with the projector's design. On this cover, there are three buttons and a small joystick that lets you navigate the projector's menu and control it. If you take the cover out, underneath it, you'll reach a space that contains a micro-HDMI connector and a small USB cable, used to connect the bundled HAKO mini Android TV box. Setting everything up is straightforward and the space under the cover is enough to hide the TV box without issues. Furthermore, it looks like it's large enough even for other Android TV devices or a regular Google ChromeCast, if that's what you want.
The ASUS ZenBeam L2 projector includes an Android TV box
An essential detail about this projector is that it uses a mercury-free eco-LED light source. This allows it to project high-quality - crisp and vivid - images throughout its lifetime. Moreover, another advantage of having an LED light source is that it can turn on and off quickly - unlike conventional lamps that take a long time to warm up and cool down.
The longevity of the projector's light source is estimated at about 30,000 hours. This implies that you can enjoy almost three years and a half of uninterrupted projection. I find it quite impossible to imagine anyone actually keeping the projector turned on and running continuously for that long time. A more real scenario would be using the projector for three to four hours daily. In that case, the projector's LED light source lifespan would have you covered for over 20 years!
The back of the ASUS ZenBeam L2 projector
Imagine watching your favorite movies or shows on a big screen, even when you're out and about, like camping. 🙂 That's what the ASUS ZenBeam L2 projector can offer you, being able to project video at a native 1080p (1920 x 1080) resolution and supporting a maximum 4K resolution of 3840 by 2160 pixels. Though it's a small portable device, the ZenBeam L2 can project images with a diagonal size of up to 120 inches (~3.05 meters) from a distance of 3.2 meters (~10.5 feet). At the minimum distance of one meter (3.28 feet), you get a 40-inch image.
The lens of the ASUS ZenBeam L2 projector
The ASUS ZenBeam L2 also has a very bright light output for a portable projector. Its official specs indicate a brightness of 960 lumens, which means that you can enjoy your content even in spaces that aren't very dark. Worth mentioning, the ZenBeam L2 is significantly brighter than what I've seen on other similar portable projectors like Samsung's The Freestyle, for example, which only offers 550 lumens and also costs more.
The buttons and joystick found on the top of the projector
In terms of connectivity, you get a generous port selection on the ASUS ZenBeam L2, one that should satisfy even the most demanding of us. On the back of the projector, at the bottom, there's a USB-C power port, a 1.5A USB-A port that you can use to recharge another device (smartphone, for instance), a 7.5W USB-C port that supports display input (DisplayPort Alt mode), an HDMI port, and a 3.5mm audio jack. Left and right of the ports, you'll also find a tiny LED that lets you know when the projector is running low on battery and a small reset button that allows you to return the projector to its factory settings.
Port selection on the ASUS ZenBeam L2 projector
Moreover, the projector doesn't offer just wired connectivity options but also wireless options. Thanks to the HAKO mini Android TV box bundled with it, you can also connect the ZenBeam L2 to Wi-Fi 5 networks. And, also thanks to the Android TV box, you can run various streaming apps.
The HAKO mini offers you Android TV
The projector also has a 10W speaker with Smart AMP technology made by Harman Kardon. While the sound quality is high in smaller spaces, the maximum volume is rather low. Fortunately, the HAKO mini TV box also offers Bluetooth connectivity, so there's nothing stopping you from pairing a more capable portable speaker to the projector. Of course, unless you don't prefer using a wired speaker with it: don't forget that the ZenBeam L2 also has a 3.5mm audio port on its back.
The projector benefits from a 10-watt speaker
Last but not least, a word about autonomy: the ASUS ZenBeam L2, being a portable projector, also features a built-in battery. That's great when you're traveling or simply want to have a movie night in your backyard and don't have a power plug nearby. The projector's battery has a capacity of 65Wh that can keep it running for up to three and a half hours (in eco mode).
If you want more details about the features and specs of this portable projector, you should visit its official webpage: ASUS ZenBeam L2.
Overall, the ASUS ZenBeam L2 looks great and appears to be a well-thought-out device in every aspect. Its design is sleek, the connectivity options you get are plenty, and the performance offered by the projector is excellent, considering it's a portable device. Furthermore, its price and specs appear to be better than what you get from many of its competitors.
Using the ASUS ZenBeam L2 projector
I'm a dad, and to tell you the truth, my daughter enjoyed the ASUS ZenBeam L2 projector more than I ever could have. On a Saturday night, she wanted to watch a movie with her friends, and they all wanted to see it cinema-style, on the whole wall in our living room. 🙂 So that's what we did: we took the ASUS ZenBeam L2 projector, plugged it into a power outlet, connected it to our Wi-Fi network, and launched the Disney Plus app. Then, the kids started deliberating on what movie to watch. It took a while and more than just a few voting attempts, but they finally reached a consensus: Elemental.
We projected the movie on the wall of our living room, creating a cinema-like experience for her and her friends. They all enjoyed the animation with crisp sound and vivid colors, thanks to the ASUS ZenBeam L2 projector.
Watching a movie on the ASUS ZenBeam L2 projector
Besides the movie night party that we organized for my daughter and her friends, I also used the projector almost every evening since I received it. The ASUS ZenBeam L2 is a versatile device that combines the functions of a projector, a smart TV, and a smart speaker. You can connect to it and project your favorite content, or you can use its built-in apps and voice control to access various streaming services. I enjoyed watching movies on Disney Plus and HBO Max with the ZenBeam L2, and I was impressed by its speed and performance. It delivered a smooth and clear picture without any lag or distortion. One of the best features of the ZenBeam L2, in my opinion, is that it automatically adjusts its focus and keystone depending on how you place it. You don't have to worry about fiddling with the lens or finding the perfect angle. It will always project the video on the wall or any other surface with optimal clarity and quality.
ASUS ZenBeam L2 projector focuses and adjusts its keystone automatically
Leaving image quality and performance aside, one of the coolest features of the ASUS ZenBeam L2 projector is Light Wall. It's a built-in app that allows you to transform the look of any room by projecting a virtual "screensaver" and creating an atmosphere that matches your mood. There are 26 preset options available, with projections that are designed to create cozy environments with colorful effects, various natural elements, and even cats.🙂
The Light Wall app is a nice little trick
The ASUS ZenBeam L2 is more than a mere projector. It's a device that can transform any room and any camping site into a cinema. With its easy-to-use HAKO mini Android TV box, you can access a variety of media content and enjoy it on a large screen. The performance offered by the projector is top-notch, considering its size, and I'm sure anyone who tries it will be happy with what the ZenBeam L2 offers.
What's your opinion about the ASUS ZenBeam L2 projector?
The ASUS ZenBeam L2 projector was a delight to use, and I was very pleased with its features and performance. I think anyone who loves watching movies will find it useful and enjoyable. It's a great device for any home and for anyone who wants to enjoy a cinema night outdoors. What do you think about this projector? Don't hesitate to share your opinions about the ASUS ZenBeam L2 in the comments section below.